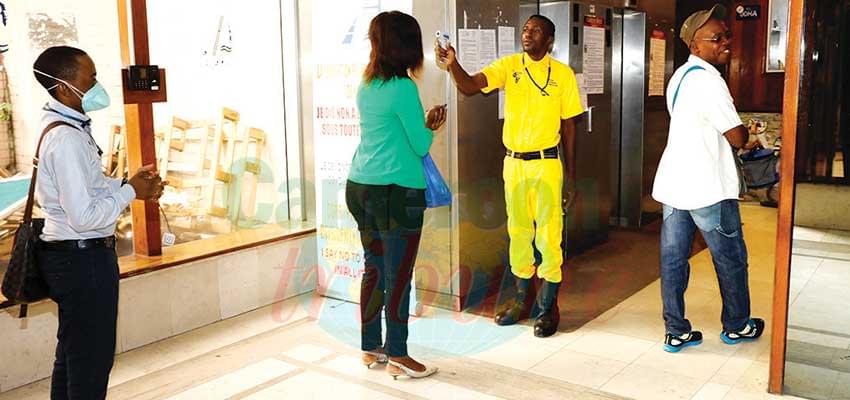 The General Manager of the Douala Port Authority has put in place stringent office measures for workers to follow in preventing Covid-19.
"Sorry Sir! No more crowding allowed in front of the administrative block. The General Manager's decision prohibits all visitors including private or family members", a security agent tells a man who struggles to make his way into the premises on March 26, 2020. The angry visitor insists on entering stating "why are you preventing me from entering, when I see others going in and out freely". At this point the security agent brings out a note signed on March 20 by the General Manager, Cyrus Ngo'o, which does not only prohibit visitors from the premises of PAD but also restricts non-professional workers from the offices and services under his control. At this point, the visitor who could not justify the reason behind his presence at the PAD office sluggishly moved away.
Jeanne Nadege Massoma is one of the security guards at the door into the Administrative block of the PAD offices; she says only those with official access are allowed to get in, after going through a Thermo-Flash check and a cleansing ritual with the now compulsory hand sanitizing gel, placed at the wall next to the door. The security agents are not budging. According to Wange Ebongwe, a male security agent, "any person who does not adhere to the instructions is immediately sent out. The cleaning of hands does not end at the main entrance into PAD; it must be done at the entrance into every office of the building. As such, many visitors, like the team of Cameroon Tribune journalists, found themselves sanitizing their hands almost 10 times within 30 minutes, as they moved from one office to another. Within PAD premises not more than three people are supposed to use the elevator at a time. The security agents are on hand to enforce this decision and see to it that individuals practice maintaining 1.5m social distancing recommendations, in their interactions around the premises. The workers systematically wear face masks in any meeting of a group of more than 10 persons. There is the regular disinfection of mobile phones and other commonly used equipment such as laptops, keyboards, desktops, tablets, door handles amongst others.
The General Manager has also restricted access to the company's canteen, in addition to suspending all recreational activities within the enterprise. A programme has also been set up to disinfect the premises every fortnight for a period of six months, as part of a general preventive treatment programme against Covid-19, in all PAD sites.

Same category