Vote Counting : Commission Hands Report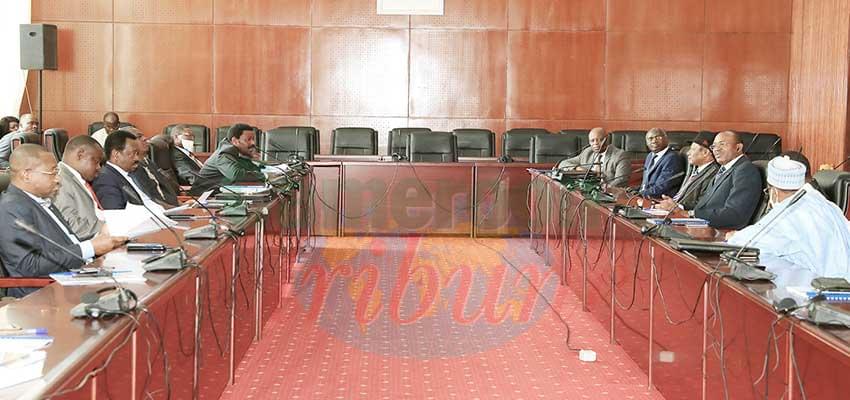 After two days of work, the Commission has forwarded proceedings of their work to the Constitutional Council.
Work has been finalised by the National Commission for the Final Counting of Votes and a report of their proceedings handed to the Constitutional Council as stipulated by the Electoral Code. The Commissioners who started work on Monday March 30, rounded-off on Tuesday March 31, 2020 with the final report prepared in both official languages and signed by all members present. Headed by Emile Essombe as President of the Commission, the members scrutinised the reports forwarded by the Divisional Supervisory Commissions of the 11 constituencies concerned in the partial election. A total of 13 seats at the National Assembly were contested by the different political parties which were concerned in the election re-run in the North West and South West Regions which notably included the CPDM, SDF, BRIC, UDP, CDP and OPDC. Commissioners each returned home with a copy of the collectively signed final report.
At the end of proceedings, Emile Essombe said they worked in accordance with the law and their work was simply a continuation of what they started during the regular February 9, 2020 legislative elections. According to him, voter's participation was lower, a situation he judged not linked to security but due to little effervescence accordance to the electoral process.
The National President of the Cameroon Democratic Party (CDP) Enow Benz Bate said proceedings evolved smoothly and they practically worked based on the reports forwarded to them by the Divisional Supervisory Commissions. The same remark was made by Ernest Pekeuho of the BRIC party (Bloc pour la reconstruction et l'indépendance économique du Cameroun). According to him, very little modifications were to be done.
On his part, Gilbert Mbang of the United Democratic Party (UDP) said a convivial atmosphere existed amongst Commissioners as they worked but for some little irregularities he observed.
With the final report on vote count having been handed to the Constitutional Council, the Council shall in its capacity as the competent body that ensures the regularity of the election of Members of Parliament proclaim the results of the election re-run. The Social Democratic Front (SDF) party was absent during the proceedings of the Commission.

Same category