The Gambia: Over 800,000 Voters Choose Next President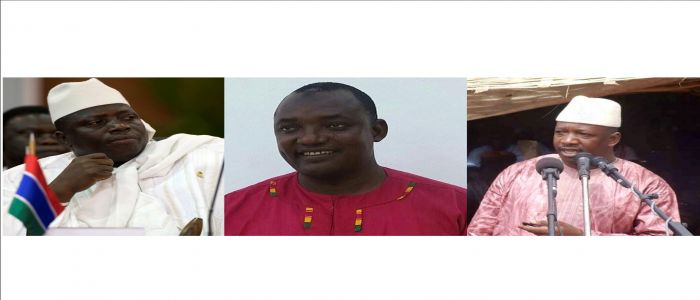 President Yahya Jammeh yesterday December 1, 2016, faced two challengers in a poll marked by telecommunication disruptions.
About 880,000 voters in The Gambia went to the polls yesterday, December 1, 2016, in over 1,400 polling stations to choose the next President from three candidates, BBC reported. Incumbent Yahya Jammeh is seeking a fifth five-year term after 22 years in power following a coup in 1994. Jammeh ran for the Alliance for Patriotic Re-orientation and Construction, APRC party. Others were Adama Barrow, an estate agent and candidate of a coalition of seven opposition political parties, while Mamma Kandeh ran for Gambia Democratic Congress Party, GDC.
The Gambia has a unique way of choosing its President. Instead of using ballot paper, voters dropped a little stone into the coloured drum of their preferred candidate. The system is aimed at tackling illiteracy and preventing rigging. In the 2012 election, only two votes were declared invalid after people placed their stones on top of drums. The African Union dispatched observers to supervise the vote whose campaign passed off almost without any major incident.
Meanwhile, President Jammeh says victory is all but assured with divine intervention and has warned the opposition against protesting. "Our election system is fraud-proof and rig-proof. You cannot rig our elections. There is no reason why anybody should demonstrate," he said. Jammeh's supporters say he has spread education and healthcare to remote parts of the country. However, his critics accuse him of repressive tendencies, with many dissenters reportedly killed, jailed or forced into exile. Barrow says he wants to bring the country back from the brink and restore human rights and true democracy.
Same category