North West : Fasting Sabga Muslims Strengthened to Stay Safe of Covid-19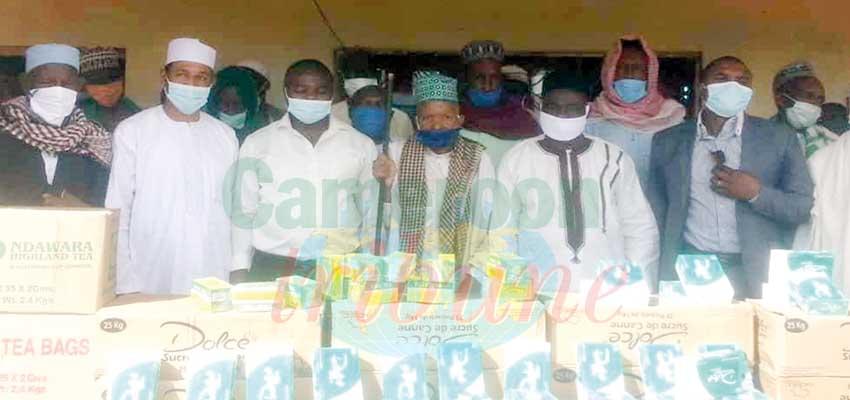 Bafut/Tubah MP, Agho Oliver offers sugar, tea to Sabga Muslims, bankrolls bills of patients to be healthy and face covid-19 pandemic.
Days to the end of fasting towards Ramadan, the new CPDM MP for Bafut/Tubah constituency in Mezam Division, Hon. Agho Oliver has inspired Muslims of the neighbourhood of Sabga, Tubah subdivision to stay strong and faithful to Allah and the nation, Cameroon. The visiting MP was in the large Muslim community of Sabga with cartons of sugar and tea to strengthen them during the very exhaustive fasting period. His generosity was stretched to patients of the CBC Integrated health center in Sabga. Visiting the health facility, Hon. Agho Oliver, offered FCFA 400,000 to bankroll consultation and treatment bills of patients with a message for them to recover quickly and stay safe from the threatening coronavirus pandemic staring the world on the face.
Read also :
Examens officiels : les épreuves sportives ouvrent la session
Back in the Muslim community, the visiting Member of Parliament had a "thank you" message for the population that stood by him during the Re-runs of legislative elections in March 22, 2020. He had warm words for them and committed to be back to join them chart development projects for the community which has demonstrated their commitment as nation builders. Hon. Agho Oliver prescribed peace for inhabitants and said he is an apostle of living together, poised to give his Bafut/Tubah constituency a new chapter in development. He was in Sabga with the new Mayor of Tubah, Tanjong Martin who crusaded for collective action to give the area a future in development. The community was sensitized on measures to stay safe from covid -19.
Read also :
Manuels scolaires : Djaïli au programme
Same category