Curbing COVID-19 : China Offers Protective Equipment To Cameroon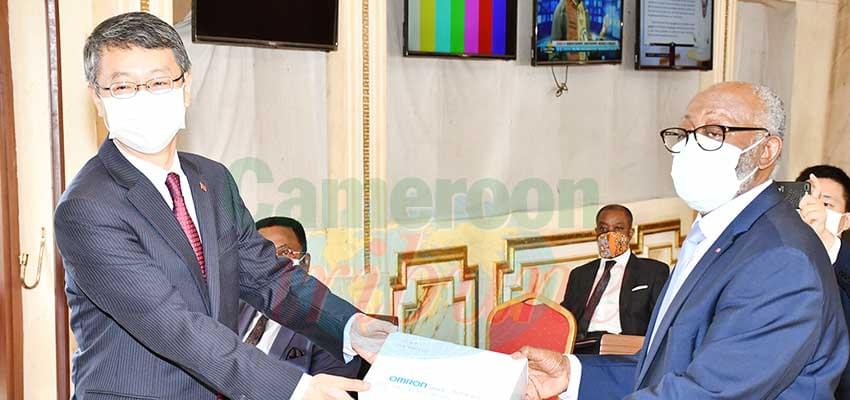 Minister Mbella Mbella received the materials from the Chinese Ambassador to Cameroon in a ceremony at the Ministry of External Relations on May 18, 2020.
Some protective equipment to better limit the spread of the coronavirus in Cameroon have been offered by the government of the Peoples' Republic of China to Cameroon. External Relations Minister, Mbella Mbella received the materials from the Chinese Ambassador to Cameroon, Wang Yingwu on May 18, 2020 which comprised 1,000 KN95 face masks, 14,000 surgical masks; 20 thermoflashes and 50 electronic thermometres.
Receiving the gifts, Minister Mbella saluted the personal gesture of China, noting it translates the friendly relations that exist between Cameroon and China since March 26, 1971 when diplomatic relations between both countries were established. "This present donation is an expression of the constant concern of China vis-à-vis Cameroon," he stated, adding China has always been a great and strategic partner of Cameroon. With regards to the pandemic, the Minister noted President Paul Biya was amongst the very first Presidents to extend his solidarity to the Chinese President when the virus started in Wuhan in December 2019.
On his part, Chinese Ambassador to Cameroon, Wang Yingwu said the protective equipment are intended to help the population of Cameroon fight the pandemic so that they can quickly return to their normal economic and other activities. The Chinese diplomat further stated the pandemic has hindered several things in international relations, economic affairs and the daily lives of people across the world, but has not in any way changed or affected the state of relations between Cameroon and China.
Cameroon and China cooperate on several spheres under the principle of a win-win partnership. Several Chinese companies operate in Cameroon withy both countries having educational exchange programmes and other projects of development.
Minister Mbella Mbella and Ambassador Wany Yingwu signed receipt documents pertaining to the protective materials received.

Same category