Kondengui Prison Offered Protective Materials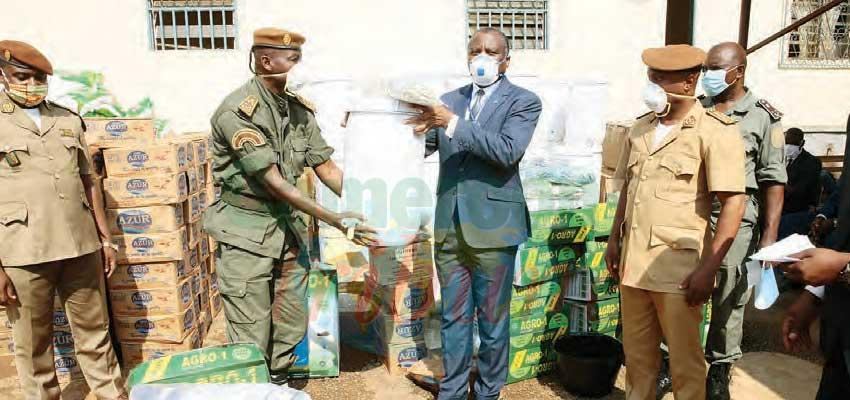 The Human Rights Commission handed the equipment offered by the UNDP to the concerned prison administrators on May 26, 2020.
In an effort to suppress the spread of the coronavirus in the prison community, some protective materials have been handed to prison administrators of the Kondengui Central and Principal Prisons of Yaounde. The materials were handed by the National Commission on Human Rights and Freedoms on May 26, 2020, a donation the Commission received from the United Nations Development Programme on May 14, 2020.
Handing over the gifts, the Vice Chair of the Commission, Prof. James Mouangue Kobila, who is Acting Chairperson of the Commission said the donation complements the Presidential measure of April 15, 2020 on the commutation and remittance of prison sentences. A gesture he said has led to the release of some 1,800 prisoners in the Centre Region. "These protective materials further complement specific measures taken by plennitentiary administrators to protect the prison community from the propagation of the virus and are in line with the Head of State's message of caution on May 19, 2020 on scrupulously respecting measures prescribed by government," he states. The materials, Prof. Mouangue Kobila stated, comprise amongst others over 5,000 face masks, 107 cartons of savon, 107 dispenser drums with adapted taps, 3,270 detergents, 16 sprayer cans for disinfection, over 3,000 hand sanitizers, 11 thermoflashes, 100 buckets and 1,000 latex hand gloves. He also noted the gifts will go a long way to help the health and sanitary needs of the plennitary administration.
On his part, the General Administrator of Prisons in the Centre Region, Guy Allain Ebouele Ngoume expressed gratitude for the gifts, which according to him come at the right time especially as government is mobilizing efforts to keep the virus at bay. He said under the overall supervision of the Miniater of State, Minister of Justice and Keeper of the Seals, measures had been put in place to protect the health of detainees. He mentioned the putting in place of local commissions in various prisons to evaluate and monitor the implementation of barrier measures. "It is very important that the health of both prison administrators and detainees are well taken care of," he stated.
Receiving the materials, the Prison Administrator for the Yaounde Principal Prison, Isidore Angoula thanked the Commission and UNDP for the particular attention to the health rights of prisoners. While assuring adequate use of the materials, he called on the collective fight against the pandemic, making allusions to the President's address to the nation on May 19, 2020 which he said the fight against the spread of the virus warrants the collaboration of all actors.
The Prison Administrator for the Yaounde Central Prison, Hamadou Madi on his part said the gifts which UNDP through the Commission has offered will reinforce barrier and hygiene measures already put in place in prisons.

Same category