Cameroon-Korea : Diplomatic Ties Lauded At Farewell Audience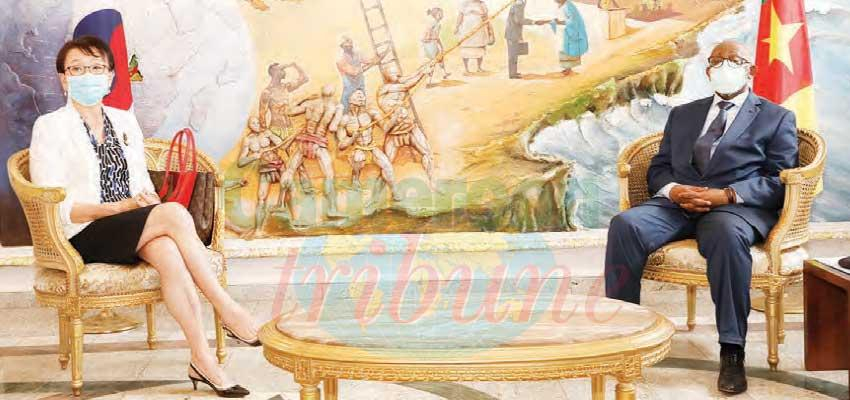 Minister Mbella Mbella received Korea Ambassador on May 28, 2020 as she has come to the end of her diplomatic mission in Cameroon.
Bilateral relations between the Republic of Cameroon and Korea have been reviewed and appreciated by External Relations Minister, Mbella Mbella and the Ambassador of Korea to Cameroon, Bok-Ryeol Rhyou in a farewell audince the Minister granted the Korean diplomat on May 28, 2020.
Ambassador Bok-Ryeol Rhyou in a press release which served as her after the audience declaration, expressed gratitude for the warm and legendary hospitality accorded her as she exercised her duties in Cameroon. « Regarding my activities in Cameroon, I would like to start with a sector that is particularly close to my heart because it is the bearer of Korea's economic development, that of human resource training. On December 20, 2019, we inaugurated the National Institute for Vocational Trainers and Programme Development (NIVTPD) of Yaounde during a ceremony chaired by the Prime Minister. As the flagship of cooperation between Korea and Cameroon, this institute will serve the Cameroonian economy and as such, will provide a relevant response to the thorny problem of youth unemployment, » she noted. The Korea diplomat also cited the opening of a Centre for Korean studies at the International Relations Institute of Cameroon in 2019.
With respect to humanitarian and social actions, Ambassador Bok-Ryeol Rhyou said as part of the Conflict and Fragile States Project, a joint project by KOICA and UNICEF is in place to improve the living conditions of all displaced people in the Far North Region. « Recently, we finalised the project of giving a donation of computer equipment worth 173,000 US dollars to the Cameroonian Children's Institution of Betamba in the Centre Region. The donation aims to equip young Cameroonians with the tools necessary to boost their participation in the digital economy policy of the Head of State,» she stated.
As concerns the health sector, she revealed that Korea has decided to donate medical equipment worth 300,000 US dollars for the fight against COVID-19. « Anxious to continue to support the Cameroonian government in improving the quality of its emergency care, CURY, a true symbol of Korea-Cameroon friendship continued to benefit from the support of Korea with a hundred ambulances and a low temperature plasma sterilizer to prevent infections in the Centre.
A State diner was offered Ambassador Bok-Ryeol Rhyou yesterday May 28, 2020.

Same category