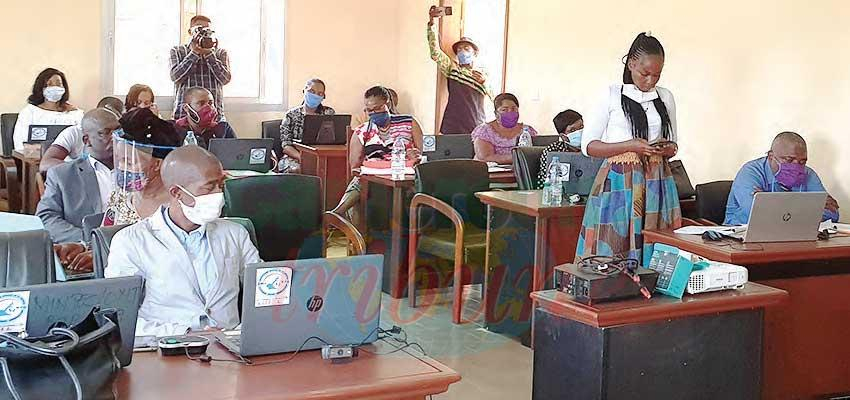 A workshop on the youths Biometric Card Management is taking place in Yaounde.
Since the official launch of the Biometric Youth Card (BYC) on July 11, 2018, by the government, the enthusiasm this has created amongst young Cameroonians has not ceased especially given the benefits from the services it will offer to its holders. The National Coordinator of the project for the Implementation of the National Youth Observatory, Mveme Atangana Pierre says to date, some 40,000 youths have applied to the national chessboard for a Biometric Card. The enthusiasm, he said, has increased with the difficulties arising from the Covid-19 pandemic. It is within this backdrop that a five-day training workshop is currently taking place at the National Youth Observatory (NYO) office in Yaounde on the use of the Biometric Youth Card Management Software. The Biometric Youth Card, it should be recalled, is a card which carries the personnel identity of any holder (youth) and gives hil/her benefits to low-cost services for health, transport, housing, tourism and voluntary insurance in all the ten regions of the country.
Opening the workshop, on May 27, 2020, Mveme Atangana Pierre highlighted the importance of the initial training workshop for Heads of National Coordination on effective use, management and production software for the BYC. By authorizing the holding of the training, the National Coordinator said the Minister of Youths and Civic Education is stressing the importance of the Biometric Youth Card in particular and the promotion of inclusive growth in the country which will be achieved through opportunities, services, facilities and access to goods and training in the direction of sustainable socio-economic integration with the YBC.
As such, Mveme Atangana Pierre called on the participants to make available to young Cameroonians, not only receipts but above all and in a short time, Biometric Youth Cards with facilities for access to the products and services offered by the companies registered in the management ecosystem of the said Card. "Young people are waiting for it and many partners are willing to contribute to its greater development", Mveme Atangana underlined.
One of the participants, Joseph Ndiwane, said the general objective of the training workshop on the management of the Young Biometric Card is to train 22 staff from the National Coordination and MINJEC in the production of the Cards. Specifically, the workshop will train seven National Coordination Officers in technical administration and operations as well as well as 22 coordinators of the NYO office and the MINJEC Computer Unit in the recruitment of young people to the Youth Biometric Card production process. The training session, Joseph Ndiwane said, is in prelude to a vast national mission to strengthen the capacities of the Heads of Antennas of the NYO and to intensify the production of the Biometric Youth Card.

Same category