Gambia: Opposition Candidate Elected In Shock Poll Win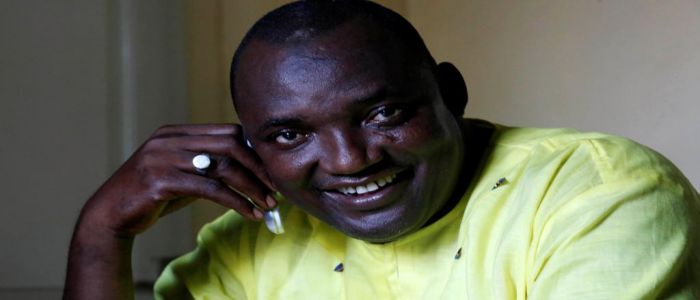 Adama Barrow received 45.5 per cent of the vote as against President Yahya Jammeh's 36.7 per cent.
Congratulatory messages have been pouring in from world leaders to the people of The Gambia on the peaceful conduct of the presidential poll of Thursday, December 1, 2016. Agency reports said incumbent Yahya Jammeh, 51, who has been in power for 22 years, conceded defeat to Adama Barrow, 51, the leader of a coalition of seven political parties.
The results released on Friday, December 2, 2016 by the Independent Electoral Commission, gave Adama Barrow 45.5 per cent of the single round vote, Yahya Jammeh, 36.7 per cent and Mama Kandeh, 17.8 per cent, the BBC reported. Hundreds of Gambians took to the streets to celebrate one of the biggest election upsets West Africa has ever seen. In a televised statement, Jammeh said the vote had been "the most transparent election in the whole world," adding that he would not contest the result.
"I take this opportunity to congratulate Mr. Adama for his victory. It's a clear victory. I wish him all the best and I wish all Gambians the best. As a true Muslim who believes in the Almighty Allah, I will never question Allah's decision. You Gambians have decided," he said. A member of the Fula ethnic group, Adama Barrow was born in 1965. He reportedly worked as a security guard in London in the early 2000s while studying. He returned home in 2006 to set up a real estate business. Adama Barrow is a devout Muslim who is reportedly married with two wives and five children.
After the election of Adama Barrow as President last weekend, things have continued to move rather fast in The Gambia. An appeal court yesterday, December 5, 2016, ordered the release on bail of opposition leader, Ousainou Darboe, and 18 others after they were jailed for three years last April for holding an illegal protest, the BBC said. The decision to release the politicians was followed by scenes of jubilation in the streets by their supporters. Protesters had taken to the streets last April to call for electoral reforms and the resignation of President Yahya Jammeh who has been in power since 1994.
Same category