Reconstruction of NW/SW : Divisions Prioritise Projects, Suggest Way Forward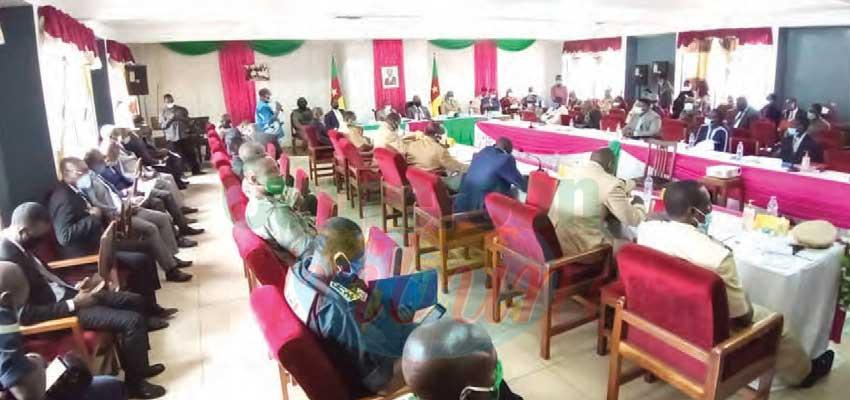 The awareness and sensitization mission of the National Coordination enters day four in Bamenda today with the Coordinator stressing that the plan is the pathway to peace and hope.
Consultations with regional and divisional teams on the best way forward for the implementation of the Presidential Plan for the reconstruction and development of the North West and South West regions ended in Bamenda yesterday with team members featuring questions, defining priorities and suggesting the way forward for the plan in challenging times of insecurity still rocking the regions. Divisional team members from all the seven divisions of the North West region held working sessions with the National Coordinator of the PPRD, Minister Paul Tasong from June 22-24, 2020 and it emerged from the exchange that the Presidential Plan of hope features the reconstruction of public and private infrastructure destroyed during the socio-political and security crisis like offices, schools, hospitals, bridges, roads, assistance to victims of private property burnt or destroyed etc.
Division by division, expectations are high. Nformi Njodzeka Stephen Ndzerem from the Bui team told CT that life skills training for youths who may no longer be able to return to school; the enhancement of social cohesion activities are crucial while roads infrastructure should be extended to Sub divisional roads destroyed in Bui. The Mayor of Wum council and Menchum divisional team member; Anthony Dighambong is a believer in humanitarian reconstruction with priority care for people who have lost property. Menchum division also featured the construction of the ring road with the Bamenda-Wum stretch as a priority. Their other projects include the building of the Menchum hydroelectric power project and appeals for the revamping of the defunct Wum Area Development Association (WADA) to create employment opportunities for youths.
The Mayor of Fundong council, and Boyo team member; Awoh Ndang Denis thinks that the recognition or gazetting of disgruntled traditional rulers may help them accompany the reconstruction plan. Boyo is interested in start-ups to reduce youth unemployment and the need for moral rearmament. The Boyo team members also raised concerns over the FCFA 1.5 million considered as compensation for each victim that lost a house.
Same category