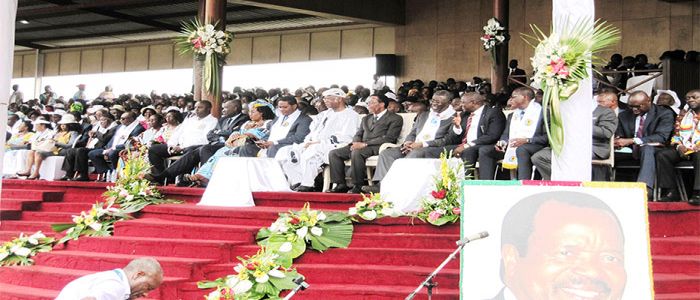 The CPDM Scribe was speaking at the Buea ceremonial ground during a grand party rally called to quell Lawyers and Teachers' strike action.
The 31 Sections of the governing Cameroon People's Democratic movement (CPDM) from the six Divisions of the South West Region mobilised their militants to the ceremonial grounds in Buea yesterday, December 6, 2016 to call for peace, unity and territorial integrity following the Lawyers and Teachers strike action that has grounded schooling activities in the area for the past two weeks.
At the Bongo Square, the Secretary General of the CPDM Central Committee, Jean Nkuete, addressed the mammoth crowd thanking them for turning out marvelously within a short notice. Mr. Nkuete explained that they were meeting in a particular context when Lawyers and Teachers grievances had been given a deformed image by the social network leading to an outburst of violence and political manipulations. He called on the South West to show their true face of a Region that contributes to national unity.
He said the CPDM believes in a perfect human community void of inequality and injustice. "The problems that come up here are problems that also exist elsewhere and so the South West cannot be a builder and a destroyer at the same time", Mr. Nkuete said. He advised the citizens to avoid clashes with the forces of law and order as such often end up regrettably.
At the Buea ceremonial ground, a special guest introduced as such in the person of the Prime Minister, Head of Government, Philemon Yang, addressed his South West compatriots calling on parents to send their children back to school. Mr. Yang resonated that the school is where the youth should be to aspire to be responsible citizens and leaders of tomorrow.
The political leader of the South West CPDM and former Prime Minister, Peter Mafany Musonge, took to the rostrum and explained that the two weeks have been troublesome for the country. "We refused to accept attempts to reduce our nation to a banana republic", he said. To him the people of the South West can neither betray nor endanger the peace of this nation", he asserted.
He sued for dialogue as a way of solving problems, especially as the government has offered the employment of 1,000 bilingual teachers, CFA Two billion subvention for private schools and translated the OHADA law into English. Such were the initial requests made by the partners in strike. Musonge rejoiced that the top associations of the Region namely South West Chiefs Conference (SWECC) and the South West Elite Association (SWELA) have remained consistent with Cameroon's unity.
Previous speakers corroborated with one theme, peace, unity and non-violence as proven means of solving differences. They included Ntuba Beatrice from Meme speaking for women, Julius Nkom Nkopt from Manyu for the youth and Mafany Namanga who addressed the rally on behalf of the various sections of the party in the Region.