Buea: Rain Destroys COVID-19 Treatment Centre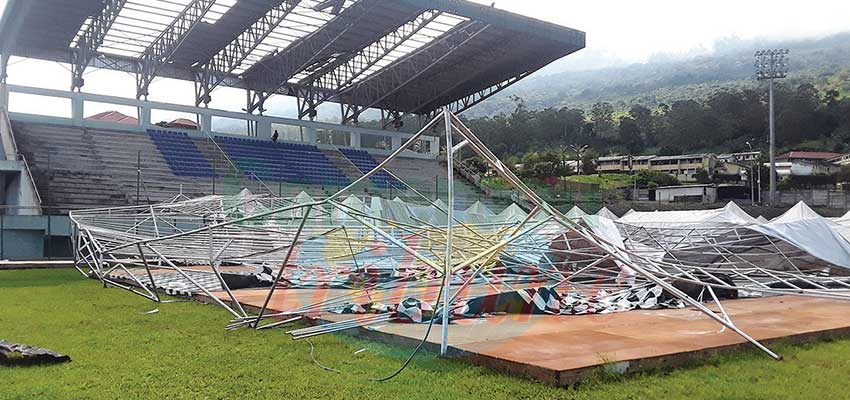 The roof of the tribune of the Buea Town Green Stadium was also shattered during the tempest.
The Buea Coronavirus Treatment Centre that was built inside the Buea Town Green Stadium is now in ruins. This follows roaring and deafening rains that engulfed Buea on Sunday October 4, 2020 technically bringing the town to a standstill. Sheets of zinc on the roof of the Buea Town Green Stadium's tribune were blown off by the rainstorm and deposited on houses behind the tribune. The end result is that the roofs of four houses behind the tribune were smashed by heavyweight roofing sheets from the tribune. By 2 pm last Sunday, a bright and sunny day suddenly gave way to rains that came with high intensity. As the heavy downpour pounded the earth crust, electrical power went off. The clouds unexpectedly became pitch-black and plunged the whole town into near darkness. The strength of the rain caused inhabitants of Buea to fear of looming flood as has been the case of late during heavy rain. The rain raged on for close to four hours on the same tempo.
The following day, South West Governor, Bernard Okalia Bilai, visited the ruined makeshift structure site located in Buea Town in the company of South West Regional Delegates for Public Health and, Sport and Physical Education. He said that it is unfortunate that the place to host COVID-19 patients has been destroyed. That they will do an evaluation of the damages and inform hierarchy about the situation. "With the COVID-19 Treatment Centre in Buea, the government has put in enough means to see it realised. So, we cannot stay like that. We are going to evaluate the cost of the destruction and we will inform the Ministers of Public Health and Sport so that the Centre can be rehabilitated," he told the press. No human life was lost in the destructions but everything including office equipment are in devastation. The destroyed COVID-19 Treatment Centre in Buea is the only one to remain operational as that of Middle Farms in Bota Limbe is to be dismantled ahead of CHAN 2021 in January.
Same category