Road Accident Campaign: 2,792 Sensitization Operations Undertaken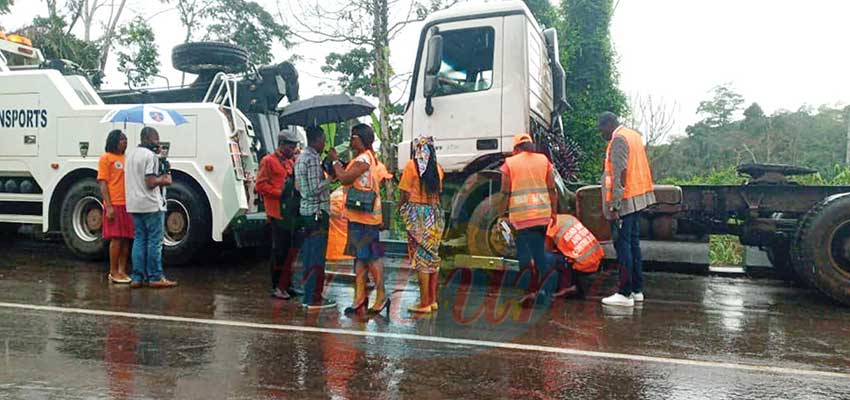 Within "Operation Zero Accident", some 30 poorly parked accidents vehicles along the Yaounde-Douala Highway have been removed.
As the country moves towards a total resumption of economic and cultural activities as well as the opening of its borders, the Minister of Transport, Jean Ernest Massena Ngalle Bibehe, has taken the bull by the horns to launch a long team campaign against road accidents. Two weeks after the implementation of "Operation Zero Accident" nationwide, information from the Ministry of Transport indicates that some positive results have been recorded. All the 58 divisions in the 10 regions have effectively joined the bandwagon with some 2,792-road safety sensitization campaigns already taken place nationwide.
The Director of Road Transport, Divine Mbamome Nkendong says the National Gendarmerie and the Police Force are in full synergy with the Ministry of Transport to fight against the loss of lives during festive periods along various highways in the country. He also revealed that all the teams of the Ministry of Transport nationwide have carried out combined operations with its partners. During these campaigns, some 60 cases of offenses related to over speeding were recorded. The reports are being examined for appropriate sanctions to be taken in compliance with the law. The Director of Road Transport also revealed that the pole trucks acquired by the ministry are being used within "Operation Zero Accident" to curb road accidents caused by poorly parked vehicles. The trucks, equipped with pairs of poles, and hoisting equipment used in lifting heavy machinery around a lease have been used to remove 30 poorly parked accident vehicles along the Yaounde-Douala Highway. The trucks will systemically remove poorly parked accident vehicles among different highways in the country.
The current campaign is divided into two phases. The first phase of the campaign, which covers the back-to-school period, began on October 5, and will end on November 29. The second phase will run from November 30 to January 2021 and will cover the period of festivities. Due to the increase in road traffic, these periods according to Minister Bibehe are the most accident-prone of the year. Special about the campaign is the fact that it brings together several road prevention and safety activities. Amongst which are awareness-raising activities for road users on bad practices such as: speeding, not wearing a helmet for motor cyclists, not wearing a seat belt, overloading, using vehicles in poor technical condition, the use of alcohol by drivers or other psychoactive substances and non-compliance with the Highway Code. The campaign does not leave out the need for road users to apply the barrier measures published by the Government as part of the fight against Covid-19.
Under the coordination of the Governors of the 10 regions of the country, Jean Ernest Massena Ngalle Bibehe reminds road users that any transgression will be severely punished as per the penalties provided in the regulations in force.
Same category