Championnat d'Afrique de catch : Alain Noudem vainqueur chez les mi-lourds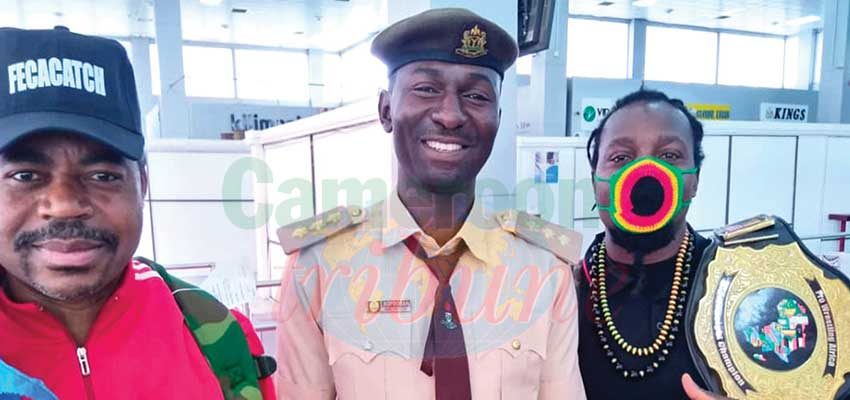 Le Camerounais s'est qualifié pour les championnats du monde après son sacre, la semaine passée, au Nigeria.
La délégation camerounaise est de retour au pays après un séjour fructueux au Nigeria. Le Camerounais Alain Noudem, alias The Wolf, a en effet remporté le titre continental chez les mi-lourds aux championnats d'Afrique de catch organisés la semaine dernière à Lagos (Nigeria). The Wolf s'est imposé devant le Ghanéen Ultime Power grâce notamment à « sa maîtrise technique », selon le capitaine Emmanuel Ndo, président de la Fédération camerounaise de catch. Cette victoire lui ouvre les portes des championnats du monde de la discipline prévus aux Etats-Unis en 2023. L'autre titre en jeu lors de cette compétition, et raflé par le pays organisateur, concernait les amateurs. Quant à la catégorie des poids lourds, la ceinture détenue depuis 2015 par le Nigeria, sera mise en jeu en mai 2021 au Cameroun.
A l'occasion de ces championnats d'Afrique auxquels ont également participé le Ghana et le Togo, le Cameroun a été honoré sur le plan protocolaire, puisque le capitaine Emmanuel Ndo a été nommé premier vice-président de la Confédération africaine de catch dont le siège est à Lagos. Un prix d'excellence a par la même occasion été décerné au ministère des Sports et de l'Education physique du Cameroun pour les efforts dans la promotion d'une discipline en quête de renouveau sur le plan continental.

Same category