Chantal Biya International Cycling Race : Cameroonians In Search Of Victory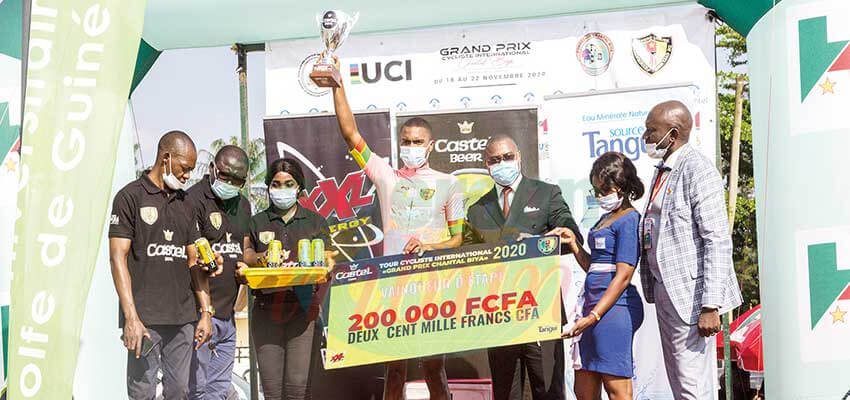 Kamzong Abossolo led the race but lost to Burkina Faso's Paul Daumont in the last sprint during the second lap of the 140km race in Abong-Mbang yesterday November 19, 2020.
The 20th edition of the Chantal Biya International Cycling Race entered its second day yesterday November 19, 2020. The race took place along the Akonolinga-Abong Mbang covering a distance of 140km. A total of 56 cyclists were on the list of athletes that began the race. After kick off in Akonolinga, the cyclist rode past villages in the East Region. As they rode past school children came out of their classrooms to cheer the cyclists. It was a highly competitive race as each of the participating teams was out to win. Shortly after take off three cyclists were in the escape among them two Cameroonians. The Cameroonians worked hard and were at the top front in most part of the race. After stiff competition 21-year-old Paul Daumont from Burkina Faso emerged winner finishing the race in 3h21'29". He was followed by Kubis Lukas from Slovaki and Cisse Isiaka (Côte d'Ivoire) in the same time.
The first Cameroonian, Clovis Kamzong Abossolo from the SNH Velo Club finished in the fourth position with the same time record as the winner. Another Cameroonian, Fozing Dassie Robert is four seconds away from the first cyclist. Officials of the Cameroon Cycling Federation believe that the Cameroonian cyclists will be able to make up in the remaining three laps. In the general classification, Moïse Mugisha from Rwanda maintains the yellow jersey with 5h37'20". Paul Daumont and Kubis Lukas are 34" seconds behind the leader. Kamzong Abossolo is 34 seconds away and Fozing Dassie 38". The green jersey for the best climber went to Daumont Paul. The white red dotted jersey went to Kone Souleymane from Burkina Faso. The white jersey for the best youth went to Moïse Mugisha and Kamzong Abossolo got the bleu jersey for the best Cameroonian cyclist of the day. In the teams' classification SNH Velo Club stands out as the best. The event took place in the presence of authorities of the East Region, officials of the cycling federation and other invitees. The third lap will take place today November20, 2020 along the Yaounde-Ebolowa highway.

Same category