Promoting Decent Migration : Government's Efforts Appreciated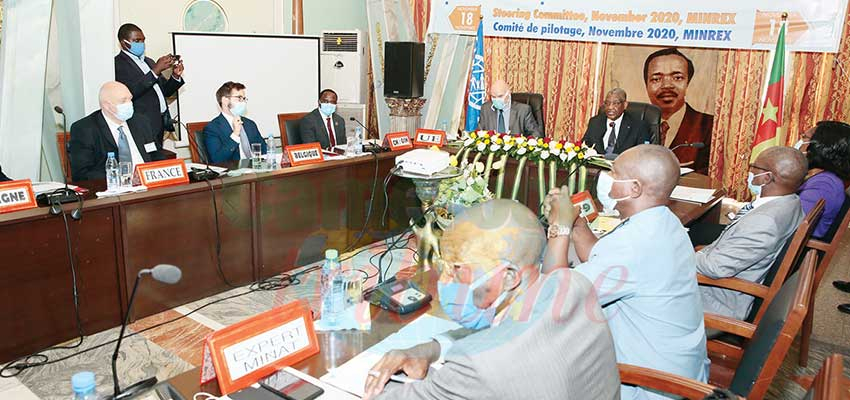 A steering Committee meeting of stakeholders held at the Ministry of External Relations on November 18, 2020.

Stakeholders involved in promoting safe and secure migration have appreciated joint efforts in ensuring the return of immigrants trapped in difficult situations. This was during the fourth session of the Steering Committee for the European Union and the International Organisation for Migration (EU-IOM) Joint Initiative for Migrant Protection and Reintegration which held at the Ministry of External Relations on November 18, 2020. The Minister Delegate to the Minister of External Relations in charge of Cooperation with the Islamic World, Adoum Gargoum presided the session.
In his opening remark, Minister Gargoum said the initiative which started in June 2017 had a three-year timeframe plan which geared towards facilitating the voluntary return of Cameroonians in distress. He said for more than 36 months of the initiative, the results have been satisfactory. Giving a balance sheet of the initiative in Cameroon, the Minister said over 2,000 Cameroonians returned to the country between September 2017 and 2018. In 2019, he further stated, technical assistance programmes were launched for them in Cameroon in the domains of trade, livestock, agriculture and other economic empowerment projects. Financial assistance was equally provided this 2020 with several sensitisation campaigns on the dangers of irregular migration carried out in the Centre, Littoral and West Regions.
On his part, the First Counsellor and Chief of Cooperation of the EU Delegation in Cameroon, Arnaud Demoor acknowledged commitments made by the government at the Abidjan Summit and other venues to ensure a dignified return of Cameroonian citizens and their sustainable reintegration. "People move around often to escape poverty and conflict, to seek protection from persecution or serious harm, or to build a better life. For this reason, migration should take place in a safe and orderly manner, as stated in the European Union's New Pact on Migration and Asylum," he stated.
For the Chief of Mission of IOM, Boubacar Seybou, 4,374 persons have returned to Cameroon under the initiative especially from Mali, Libya and Niger. Over 100,000 persons have been sensitised in 200 communities. For apt operationalisation, he said, all partners are working in synergy using a participative approach.
Funded by the EU Emergency Trust Fund for Africa, the initiative has been designed to provide a coherent framework to save lives, protect and assist migrants while encouraging legal migration routes.

Same category