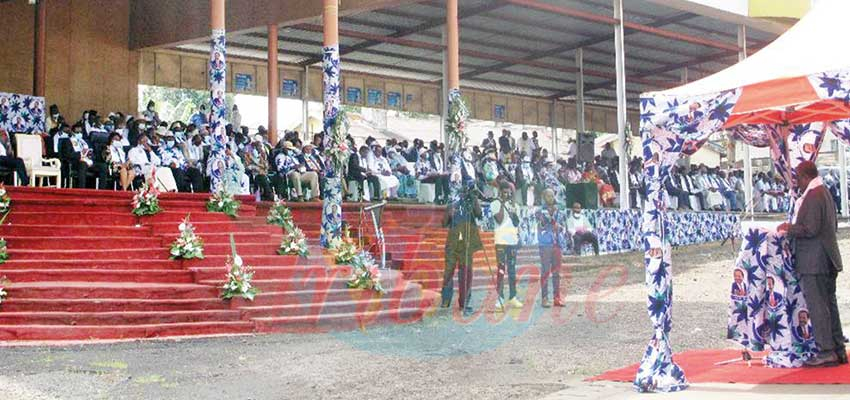 Chief campaigner for South West, Mafany Musonge, urged voters to count on CPDM for development, peace and integrity of national territory.
Buea, the Regional capital of the South West Region, was in nostalgia of Cameroon history Saturday November 21, 2020 with the launching of campaign for the election of Regional Councillors scheduled for December 6, 2020. It is the campaign to vote 70 divisional delegates and 20 chiefs into the Regional House of Assembly as Regional Councillors who will pilot development and cultural affairs of the South West similar to what obtained before 1972.
Read also :
Rétrospective 2020 : l'année de Paul Biya
To mark the beginning of vote canvassing, the ruling party, Cameroon People's Democratic Movement (CPDM) dispatched its South West regional team leader, Peter Mafany Musonge, to chair the campaign launch event at the ceremonial ground in Buea. This party is the lone political formation that has fielded candidates for the South West Regional House.
Read also :
Special 2020 : President Biya's Achievements On Spotlight
From 10 a.m. to 1.30 p.m., the animation was in high decibel with representations of various cultural groups of the Region and a rhythmic dance from the Fang (South, Centre and East of Cameroon). After a discourse by a CPDM expert on the relevance of the Regional elections, the regional campaign leader, Peter Mafany Musonge, took the rostrum to call on all councillors of the Region to vote the CPDM list which is poised to make the South West Region "a high place for the consolidation of national unity and integration as well as the defence of the territorial integrity of Cameroon". Mafany Musonge highlighted the importance of the election to include the fact that it will epitomize the special status for Anglophone Cameroon as accorded after the recent Major National Dialogue. Above all, he said, the election will bring power closer to the people in making their own choices about their advancement.
Read also :
Reconstruction de l'Extrême-Nord : le programme présidentiel en marche
On the occasion of campaign launching in Buea for the entire South West Region, the Governor of the Region, Bernard Okalia Bilai as guest, joined the various members of Government from the area to observe. The big wigs and elite of the Region as well as traditional rulers rushed home to give the event the shining colours. Traditional rulers of the South West were present at the Buea event though not as CPDM voters and candidates but in solidarity with the cause of the election given that they would also vote their peers for the Regional House of Chiefs.
Read also :
National Development Strategy : UN Is Finalising Cooperation Framework
Same category