CPDM : Mfoundi For Proximity Campaign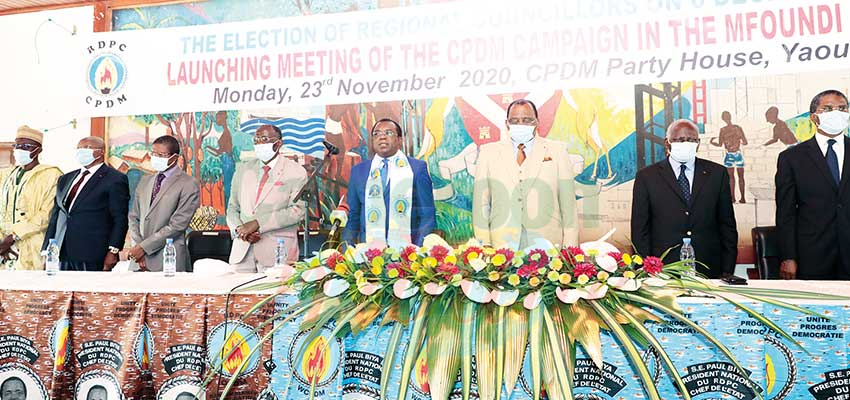 Campaign for the December 6, 2020 election of Regional Councillors was officially launched in Yaounde on November 23, 2020.
The Cameroon People's Democratic Movement (CPDM) in Mfoundi Division will use the door-to-door and other proximity campaign strategies for its seven candidates to be voted into the Regional Council in the election of December 6, 2020.
Read also :
Rétrospective 2020 : l'année de Paul Biya
The Mfoundi Divisional CPDM campaign team leader, Minister Laurent Serge Etoundi Ngoa prescribed the strategy as he officially launched the campaign in the CPDM Party House at Voirie Municipale on November 23, 2020. In the presence of other campaign and party officials, he urged militants to bury the bitterness that cropped up when the list of party's candidates was published and work in a brotherly manner for the sake of solving problems of the Mfoundi Division and those of the entire Centre Region through the candidates they will elect. He told the Mayors of the seven Subdivisional Councils in Yaounde that are CPDM that the party counts on them so that they should be no void ballot papers nor abstentions during the election. The Regional Councillors from Mfoundi, he said, would be personalities of dialogue who better understand the problems of their municipalities of origin.
Read also :
Special 2020 : President Biya's Achievements On Spotlight
The seven candidates representing all the seven subdivisions of Mfoundi Division were presented as well as the campaign material. In the words of Minister Laurent Serge Etoundi Ngoa, CPDM councillors in Mfoundi will be voting to give President Paul Biya who is also the National President of the CPDM, Regional Councillors who will not only work for the interest of the party but more importantly for the interest of the entire nation. The CPDM will therefore, use the election to show that the party remains strong and committed to the development of Cameroon piloted by President Paul Biya.
Read also :
Reconstruction de l'Extrême-Nord : le programme présidentiel en marche
Same category