Cairo Church Attack: Egyptian Authorities To Review Terrorism Laws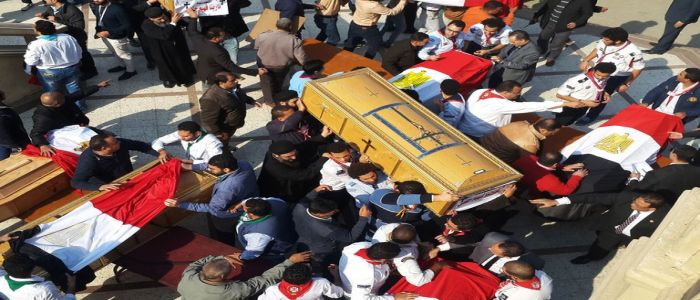 This followed the killing of 25 Coptic Christians in a bomb attack on December 11, 2016.
Egyptian authorities have vowed to tighten loopholes in legislation in order to tackle attacks by militant groups. The BBC cited President Abdul Fattah al-Sisi as making the promise after a suicide bomb attack on Saint Mark's Coptic Orthodox Cathedral, Cairo, the seat of the Egyptian Orthodox Church. The attack on December 11, 2016, left 25 worshippers dead, with government declaring three days of national mourning.
President Sisi used his address at a service for the victims on December 12, 2016 to urge the government to amend the country's terrorism laws, which he said were "restricting the judicial system" in its battle to prevent such attacks. He said the attack caused "pain to all Egyptians." President Abdul Fattah al-Sisi had earlier named the bomber as Shafik Mahmoud Mohamed Mostafa, 22, of the Moslem Brotherhood. On Monday, the Interior Ministry said exiled Brotherhood leaders provided "financial and logistical support" for the church bombing.
But the Islamic State, ISIS, in a statement on December 13, 2016, said it was responsible for the cathedral attack. ISIS identified the bomber by his nom de guerre, Abu Abdallah al-Masri. A surveillance video made public by Egyptian authorities showed a figure said to be Shafik Mahmoud Mohamed Mostafa as he entered the church, followed moments later by a blast. It was the country's worst act of sectarian violence since another Islamist group bombed a Coptic church in Alexandria in 2011, The New York Times said.
Mostafa was arrested at a Moslem Brotherhood protest in 2014. His family said he was jailed and released some time later, when they lost contact with him. Mostafa's lawyer claimed he was tortured in jail, which may have led to his radicalisation. The authorities on December 12, 2016, said they had arrested three men and a woman and were searching for two more people in connection with the bombing. The Ministry of Health said most of the victims were women and children.
Same category