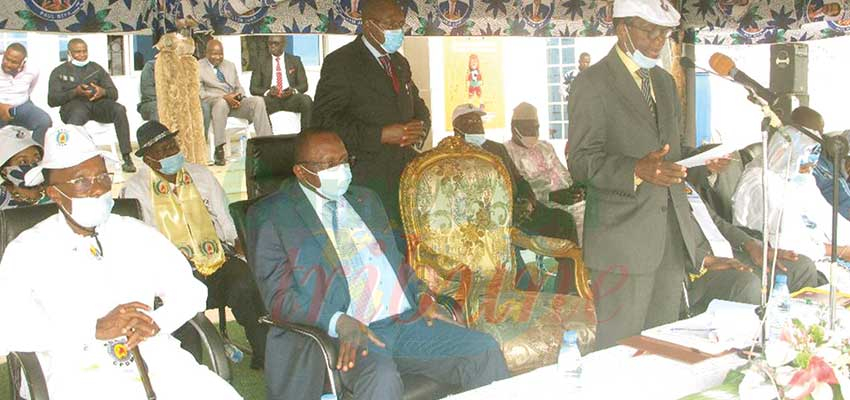 Jean Nkuete came to play the booster and keep the CPDM troops together though as the lone contender in the Region.
Midway into campaigns for 6 December, 2020, first ever Regional Council election in Cameroon, the chief scribe of the ruling Cameroon People's Democratic Movement (CPDM), Jean Nkuete, has breezed to Buea, capital of the South West Region, to flog the party's campaign horse to victory.
Read also :
Rétrospective 2020 : l'année de Paul Biya
Jean Nkuete presented the 70 candidates for the South West Regional House emanating from the CPDM's lone competing list with Fako Division (21), Meme (15), Ndian (13), Manyu (9), Kupe- Muanenguba (6) and Lebialem (6). To the party candidates shall be added 20 traditional rulers with Manyu (4 chiefs), Kupe Muanenguba (4), Lebialem (3), Fako (3), Ndian (3), and Meme (3).
Read also :
Special 2020 : President Biya's Achievements On Spotlight
Addressing a large gathering at the Buea Council courtyard last 27 November, 2020, Jean Nkuete who is Secretary General of the ruling Party and chair of the campaign committee for the election, urged the South West candidates to take up their pilgrim staff and continue to seek, explain and convince voters to give them the power to sit in the pioneer Regional House and give content to the special status for the South West Region.
Read also :
Reconstruction de l'Extrême-Nord : le programme présidentiel en marche
The chief CPDM campaigner pressed the South West champions to sail the boat of peace to safer shores keeping duty, militancy and patriotism against what he termed catalysts who would want to capsize the national ship. Jean Nkuete recognized that election could not be a celebration in Anglophone Cameroon today like in the past due to the persistent socio-political crisis.
Read also :
National Development Strategy : UN Is Finalising Cooperation Framework
The ruling party's chief scribe took extra time to warn against indiscipline and contention within the party. He admonished members to remain compact through resistance against divisive wolfs who would want to tear the CPDM party apart for personal interest. Local authorities of the ruling party painted a vivid picture of what the South West had in store for the coming election. Peter Mafany Musonge as Regional CPDM spokesperson was ultimately optimistic for 6 December victory. Meanwhile, Buea's Mayor and Section President of the CPDM, David Mafani Namange, assured that the mobilization was getting on hitch-free.
Read also :
CHAN 2020 : Let The Competition Begin
Same category