CPDM : Visiting SG Strengthens NW Campaigns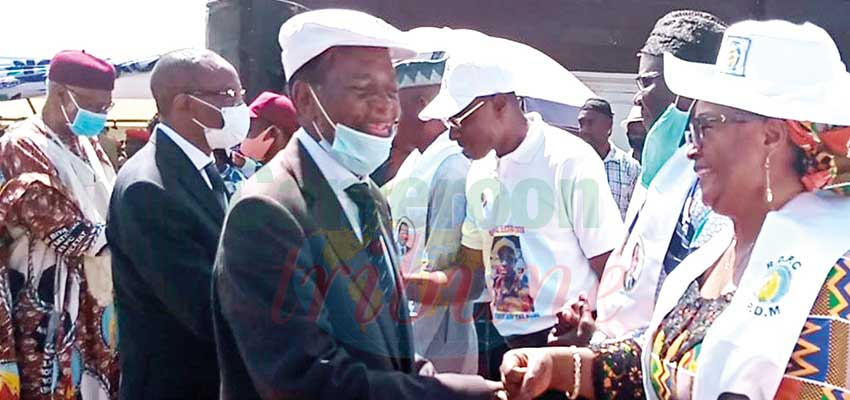 North West CPDM Campaign Team states preparedness ahead of Regional Council Elections in response to concerns haunting the region.
Topical at the event on December 2, 2020 was the public presentation of candidates for the December 6, 2020 Regional Council elections followed by encouragements by the visiting Secretary General of the Central Committee of the CPDM party, Jean Nkuete. It was not before the Regional Campaign team leader, H.E Philemon Yang told the Secretary General about the preparedness of the Electoral College to plebiscite the CPDM candidates following campaign strategies adapted to circumstances on the ground. Philemon Yang said the elections are historic for a region that is solidly standing by decentralisation and the Special Status as a response to some concerns and challenges peculiar to the North West and South West regions.
Read also :
Retours volontaires de refugiés nigérians : le geste d'aurevoir de Paul Biya
Campaign team leader for Mezam Division, Felix Mbayu earlier told the Secretary General that the Region is looking forward to a new era after the elections. Felix Mbayu sounded off about tremendous campaign work covered in challenging circumstances. It was against this backdrop that the Secretary General of the CPDM Central Committee encouraged and hailed the patriotic and loyal militants who turned full circle in the past to eliminate the opposition from the political map of the region. He said his team was around to show solidarity for a region in crisis. He cheered CPDM candidates at the Regional elections as architects of peace which is precious in times like this.
Read also :
Nécrologie : Adoum Gargoum est décédé
The visiting Jean Nkuete hoped that a new chapter will open for the North West region after December 6, with normalcy back for life without stress. He prescribed discipline among militants, some of who rush with party issues to court. Jean Nkuete inspired the population to avoid becoming victims of some historical errors.
Read also :
Cameroun – France : discussions sur la RCA
The event started with special prayers for traveling mercies for campaign team members and candidates who have committed themselves as peace crusaders to help transform the region into a more productive and attractive area.
Read also :
Lutte contre le discours haineux : la Commission Musonge repart au front
Same category