CAR : General Elections In Calm, Serenity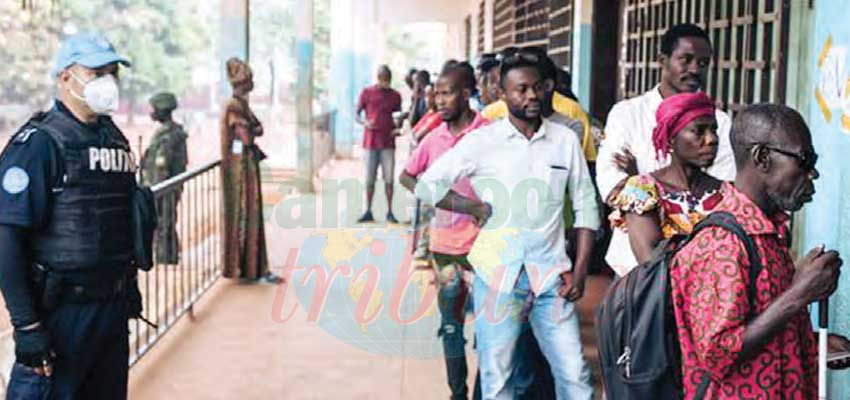 Despite security threats from some rebel groups, 1.8 million voters turned out in great number to exercise their civic rights.
Voters in Central African Republic (CAR) on Sunday, December 27, 2020 went to the polls to elect a President and Parliamentarians in a tense context. Prior to the voting yesterday, armed groups, united in a coalition to prevent the elections began marching towards the capital Bangui but were halted by government and UN forces. Though reports say polling stations opened in dispersed order, some of them were due to the late arrival of logistics to the polling stations. At the prefectural school in the Bimbo district, the doors were still closed at opening time until the arrival of election materials and officials. Same at the town hall, where the head of the National Election Authority (ANE) for the sector told RFI reporter that because of security fears, he had preferred to wait until the day had risen to transport materials to the polling station.
Read also :
Table Tennis : Tough Battle This weekend
In the capital Bangui, an important security device was deployed in the city and the polling stations, the internal security forces and the Minusca were visible. At around 8:30 am, outgoing President Faustin-Archange Touadéra voted at Boganda high school in Bangui, the capital. Speaking to reporters after casting his vote the incumbent said, "This is an important moment for the Central African Republic as it seeks to emerge from crisis. I think that the right way for development, for the blossoming and the well-being of our country and our populations is democracy, the free choice of the leaders by the people", he reiterated.
Read also :
RDC : le Nord-Kivu et l'Ituri au pas militaire
This was not however the situation in provincial towns such as Bouar and Bambari, where the Minister of the Interior confirmed votes disruption at three prefectures by gunfire at about midday. Suspected to be behind the attack are a coalition of rebels groups supported by former President François Bozizé, who is said to have made an appeal through the social media calling for the boycott of the elections: "My compatriots, I call on you not to go and vote. Stay home. Leave Touadéra alone to put his ballot in the ballot box," he declared in a message. Meanwhile, one of the main opposition leaders, Anicet Georges Dologuélé, who had the support of some opposition parties including that of François Bozize, voted around 11 am at the central town hall of Bangui.
Read also :
Mali : Woman Gives Birth To Nine Children
Same category