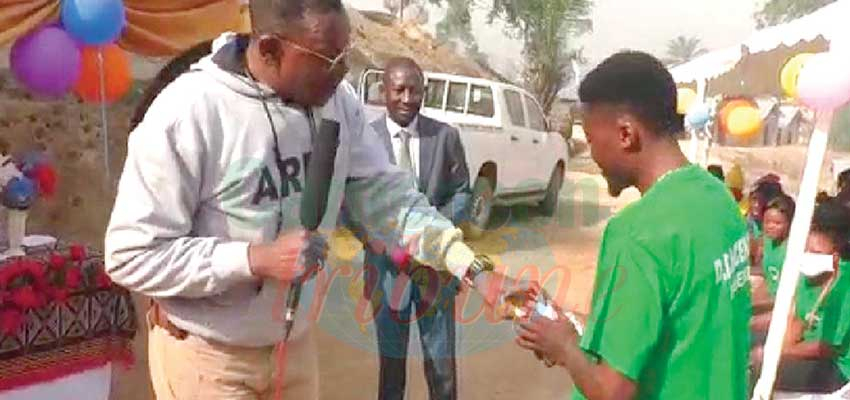 Visiting Deputy Coordinator of NDDRC, Ekoso Francis made the announcement in Bamenda recently.
Ex-combatants of the Bamenda Centre for Disarmament, Demobilization and Reintegration (NDDRC) are in the van of end-of-year feasts. It is thanks to gifts and money that have kept them in a festive mood since December 22, 2020. In effect, the ex-combatants sang and danced when the visiting Deputy National Coordinator of the Disarmament, Demobilization, and Reintegration Commission, Ekoso Francis wished them well during a Christmas tree lighting event at the centre.
Read also :
Cameroon-Turkey : Outgoing Ambassador Bids Farewell
The event boosted end-of-year activities that kept ex-combatants on duty with sporting activities, psycho-spiritual exercises, church services and scriptural readings with emphasis on the advent of the Saviour, Jesus Christ. On-the-spot, the Deputy National Coordinator featured a message of hope. He announced the imminent reintegration of the second batch of Bamenda Ex-Combatants for February 2021. Ekoso Francis inspired them to stay disciplined and offered a huge amount of gifts and money to help matters for the ex-combatants during the end-of-year feasts. It was against this backdrop that the Regional Chief of the Bamenda DDR Centre, Gabsa Nyugha Sixtus hailed efforts by the NDDRC to keep the centre alive and hopeful. He said the Christmas tree lighting event was relevant and helped ex-combatants celebrate end-of-year feasts like princes and princesses. Gabsa Sixtus expressed hope for the event to be regular as encouragements for those still in the bushes to rush for the beauty of life at the DDR Centre. He acknowledged that regular visits and gifts enhance activities.
Read also :
CHAN 2020 : le « merci » des volontaires à Paul Biya
Same category