North West : Defence, Security Officers Distinguished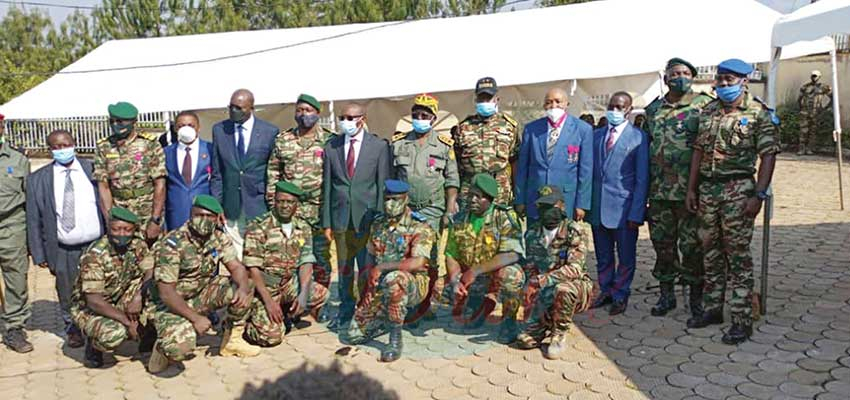 Brigadier General Ekongwesse Divine, Colonels, Sub Officers receive Special May 20, 2020 decorations for loyal services to the nation.
The decorations in Bamenda on January 5, 2020 featured Special Awards and recognitions for Defense and Security Officers who have excelled in services to the nation. North West Governor, Adolphe Lele Lafrique set the tone when he affixed the medal of the Officer of the Order of Valour on the shoulders of Brigadier General Ekongwesse Divine Nvoko, the Commander of the 5th Joint Gendarmerie Region. It was a rare moment to recognize and celebrate merit with three Colonels Knighted with medals of the Order of Valour. They were Colonel Atanga Martin Hilaire, Colonel Matiang Charles Alain, Colonel Onambele Louis.
Read also :
Respect des mesures barrières : dangereuse insouciance
It emerged from the event that some of them excelled in the leadership of field operations against those that have taken up arms against the State in the North West Region and one played a front role in "Operation Punch" against Boko Haram in the Sambissa Forest in Nigeria in 2018. Away from them, the State featured knight of the Cameroon Order of Merit medals for Kasse Jonathan Forbah and Massa Isack Dong, and the knight of the Sports Order of Merit for Mbabla Nyangi Olivier.
Read also :
Retours volontaires de refugiés nigérians : le geste d'aurevoir de Paul Biya
Same category