Mayo-Sava : le nouveau préfet en poste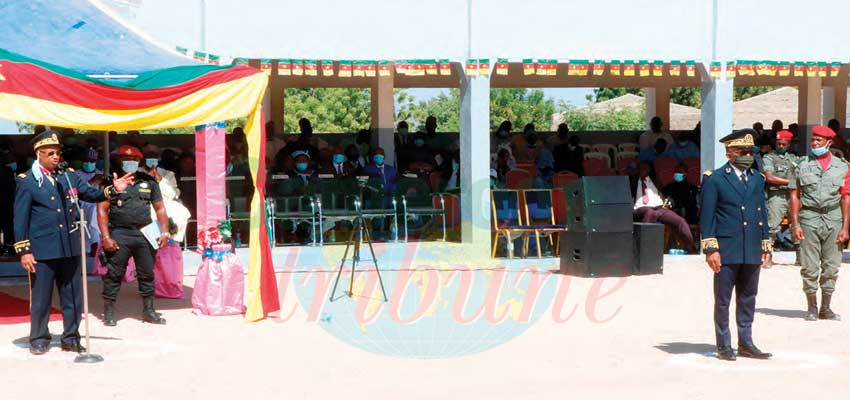 La sécurité au cœur des recommandations du gouverneur Midjiyawa Bakari à Roger Saffo. Le 11 janvier 2021.
C'est désormais Roger Saffo qui est à la tête du département du Mayo-Sava. Le nouveau préfet a été installé à ce poste le 11 janvier 2021 au cours d'une cérémonie très courue. Le promu remplace Louis Florent Ribouem à Moungam, appelé à exercer les mêmes fonctions à la tête du département du Mbéré dans l'Adamaoua. Le département du Mayo-Sava est frontalier de la République du Nigéria. Une situation qui en a fait une zone rouge du point de vue sécuritaire, avec le phénomène des adeptes de Boko Haram qui tentent des incursions dans la localité. Le gouverneur a saisi l'occasion de cette cérémonie de passation de commandement pour remercier le préfet sortant pour son rôle remarquable dans la sécurisation de cette unité administrative.
Read also :
Reconstruction of the South West Region : Japan Pledges Support
Le nouveau préfet du Mayo-Sava qui, avant le 18 décembre 2020 assumait les responsabilités de secrétaire général des Services du gouverneur de la région de l'Extrême-Nord connaît bien la situation sécuritaire de son territoire de commandement. Le gouverneur lui a recommandé de ne ménager aucun effort pour assurer la sécurité des personnes et des biens ; bien plus, il a été prescrit à Roger Saffo de s'impliquer à fond dans la relance de l'économie, avec un accent particulier sur les échanges commerciaux entre le Cameroun et le Nigeria dans la localité camerounaise d'Amchidé située à la frontière. Il devra en outre mettre un accent sur des secteurs tels la santé, l'éducation et les autres secteurs sociaux. Des devoirs que connaît bien l'administrateur civil principal Roger Saffo pour avoir été à la tête des unités administratives en tant que sous-préfet de Kumba 1er et de Mogodé.
Read also :
Regional Council By-Election : Two Lists Retained
Same category