Yaounde-Nsimalen : Airport Facilities On Point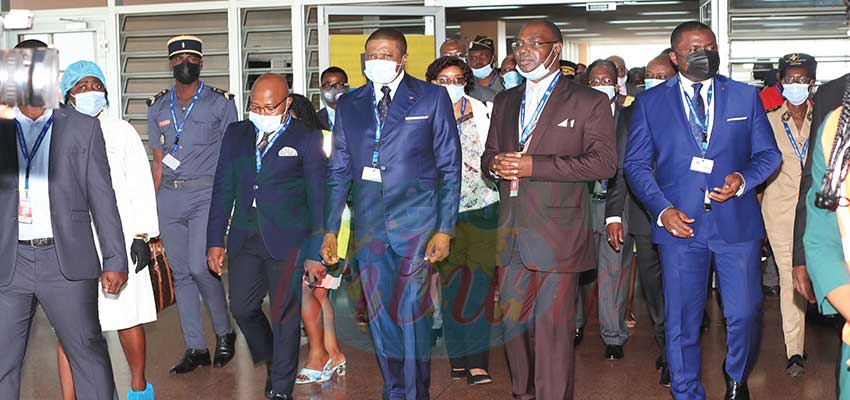 The remark was made by the Minister of Transport, Ernest Ngalle Bibehe during a visit to the outfit yesterday January 13, 2021 ahead of the CHAN opener.
Barely 72 hours after his visit to the Douala International Airport to ensure that all is set to welcome the different delegations of the African Nations Championship (CHAN) in earnest, Ernest Ngalle Bibehe, Minister of Transport carried out a similar exercise at the Yaounde-Nsimalen International Airport on January 13, 2021. With a heavy delegation comprising officials of the Cameroon Civil Aviation Authority (CCAA), the Airport of Cameroon (ADC) and other stakeholders, the Minister toured the specific corridors created for the reception of CHAN delegations and his remark was satisfactory.
Read also :
Round up : Money Time…
Just like any other airport user, the Minister passed through the normal Covid-19 check at the entrance. His temperature was taken and his hands sanitised before he began the mission of verifying whether special mechanisms have been put in place to respect Covid-19 barrier measures and if CAF guidelines have been respected. One of the main points of his visit was at a Covid-19 dispenser set aside for the delegations. He passed through the dispenser, his temperature was taken and a disinfectant sprinkled on him. He was later on guided to a room where the delegations are received. They moved to a neighbouring room prepared for the same course but this time, meant for VIP personalities. He equally used one of the last generation lifts set aside for CHAN delegations.
Read also :
CHAN 2020 : les Lions A' en quarts
Minister Ngalle Bibehe aslo visited a recently created Electricity Centre in the airport aimed at avoiding power cuts. Indeed, the centre is equipped with up-to-date equipment, which will not only avoid blackouts in the airport, but as well as in the entire city of Yaounde. He visited axillary units of this centre and was amazed with the development.
Read also :
DR Congo-Niger : Decisive Game For Both Teams
Talking to the press, the Minister said, "I am satisfied with what I have seen here today. We had the opportunity to visit the facilities especially those implementing the Covid-19 measures". He added that, the electricity centre which prevents blackouts in the airport and the city of Yaounde is a great development which needs to be lauded.
Read also :
Congo-Libye : une place pour les quarts
With the infrastructures at the Yaounde-Nsimalen International airport, one could be confident that the delegations already in Cameroon had a warm welcome meanwhile those who are yet to come will have a similar treatment reminiscent of Cameroon's legendary hospitality.
Read also :
CHAN 2020 : le Mali taille patron
Same category