Meveo Cultural Festival : Living Together Preached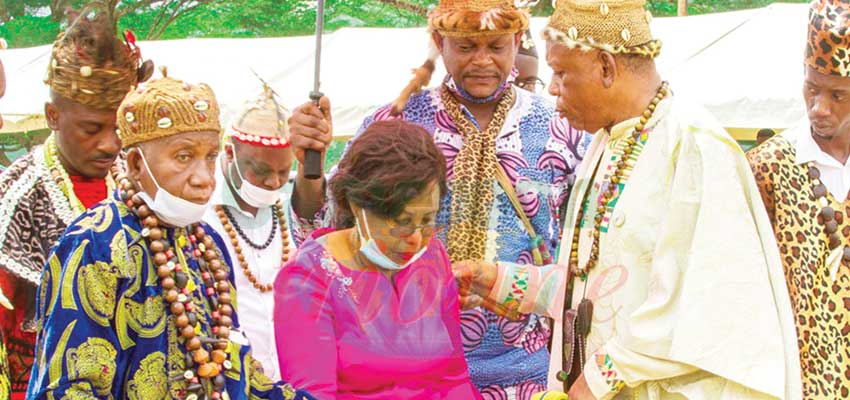 The event which took place recently in Meveo, Limbe I, Fako Division of the South West region equally witnessed the crowing of Minister Nalova Lyonga as Nyang'a Mboa.
The 7th edition of the Meveo Cultural Festival which took place in Meveo, Limbe I, Fako Division of the South West region from December 18 to 20, 2020 rallied sons and daughters of the North West and South West Regions to celebrate peace and living together. Chief Epupa Samuel Ekum, Honorary Chairman of Fako Chiefs' Conference poured libation entreating the gods to reconcile natives and non-natives to continue to live in harmony. He was joined by a cross section of Fons from the North West Region who invoked the gods to grant to the people the zeal to uphold peace and unity as their cardinal principles.
Read also :
La Sopecam accueille Lilian Thuram
Owing to her effort of championing peace in Fako Division, the custodians of tradition crowned the Minister of Secondary Education, Nalova Lyonga, as Nyang'a Mboa (Queen Mother). A traditional stool was placed at the middle of the ceremonial ground for her to sit before the crown was handed to her. They said her role in seeing that peace reigns in Fako Division is immeasurable.
Read also :
« Mes livres permettent de libérer la parole »
The promoter of Meveo Cultural and Development Assembly (MEVCUDA), Chief Ndiko Fonderson Henry appealed for peace in the face of the sociopolitical upheavals in the North West and South West Regions. "I joined my voice with the government, international community, the clergy, civil society as well as silent voices to solicit for peace and reconciliation in the face of our adversity," he beseeched the population. The people of Meveo then took the cue and presented their rich cultural heritage through songs and dances. Popular Bakweri Motio and Male Dances kept spectators spellbound. Communities from other parts of Cameroon living in Fako Division powerfully graced the event with various dances. The Cultural Festival in Meveo Village was equally an opportunity for farmers of that community to display their prowess in agricultural produce. Chief Ndiko Fonderson thanked SOWEDA and other agricultural giants for organizing training seminars for farmers of his community. The event witnessed the presence of South West Governor, Bernard Okalia Bilai.
Read also :
Quinzaine du film lycéen : le temps des récompenses
Same category