Libya : Political Dialogue Forum Ongoing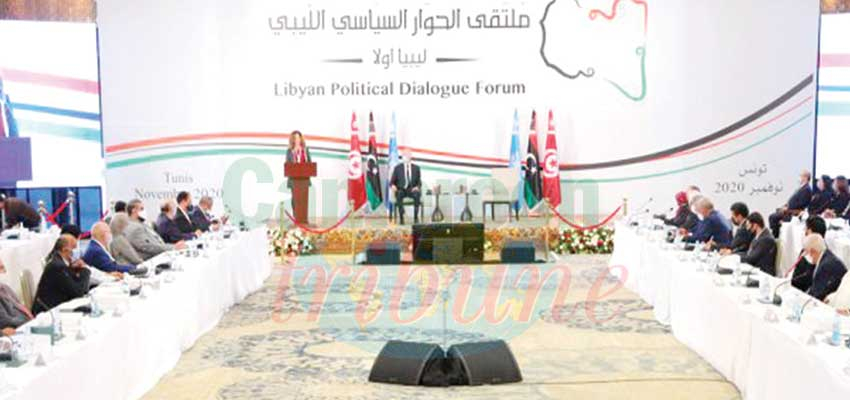 For three days in Geneva, the 18 members of the committee will have to brainstorm on how to reconcile the people.
Members of the Advisory Committee from the Libyan Political Dialogue Forum (FDPL) on Wednesday, January 13, began direct consultations in Geneva under the aegis of the United Nations. The Committee recently established to discuss outstanding issues related to the selection mechanism of a unified executive and put forward concrete and practical recommendations upon which the LDFP plenary shall decide.
Read also :
Congo : une deuxième raffinerie en chantier
The national elections date of December 24, 2021 remains a sine qua non for the United Nations Support Mission in Libya (UNSMIL), a guiding principle and unpronounceable goal. In this sense, the Committee's mandate will be strictly time-bound. The 18 members of the Committee represent a broad geographical and political diversity and includes the participation of women, youth and cultural components.
Read also :
Covid-19 Vaccine : G7 Members Pledges Extra Funding
Several observers say this is the last chance meeting for the country. The ambassadors of the United States, France and Germany have called on the Libyans to "seize this opportunity" in the face of a Libyan situation which remains very sensitive. It's now more than three months since the situation has been blocked at the level of the political process, a block which threatens the advances observed at the military and economic levels.
Read also :
Algeria : President Dissolves Parliament
Indeed, a new failure in Geneva, after that of Tunis would mean a return to square one and risk plunging Libya further into this chaos in which it has been since 2011. For now, there is an emergency because the ceasefire agreement is fragile, time is running out whiles blockages are increasing. Along with the difficulties relating to the executive selection mechanism, the issue of the legal and constitutional framework for the elections also divides the country.
Read also :
South Sudan : The Path To Reconstruction
Stephanie Williams, acting special envoy to Tripoli, warned in her inaugural address of yet another setback, calling on Libyans to act to ensure that the elections are held on December 24.
Read also :
« La paix est une quête permanente »
Meanwhile, the women members of the Political Dialogue Forum have called on the United Nations Security Council to send away all mercenaries from Libya, apply transitional justice and put the executive under observation. They also called for gender equity in the formation of the next unified government.
Read also :
Présidentielle au Niger : le week-end de vérité
Same category