North West : Presidential Grant To Ease Movement In Bamenda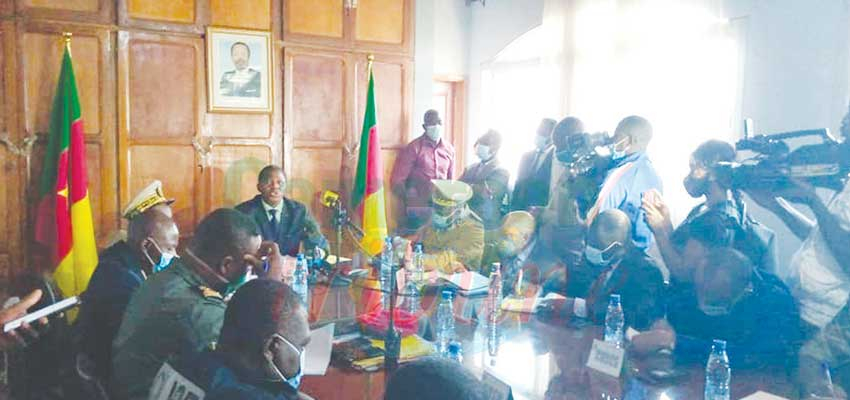 Territorial Administration Minister prescribed strengthened vigilance during security evaluation meeting in Bamenda yesterday January 18, 2021.
The transportation of people in metropolitan Bamenda will be made easier following a Presidential grant for the City Council to acquire more township buses. The welcome gesture comes on the heels of frustrations by the population following the prohibition of motorcycles from the main streets of the City. Territorial Administration Minister, Atanga Nji Paul announced the Presidential grant during a security evaluation meeting in Bamenda on January 18, 2021. He said it was all about the Head of State with a listening ear for his people.
Read also :
Cameroon-Turkey : Outgoing Ambassador Bids Farewell
Away from that, Minister Atanga Nji Paul delivered congratulations and encouragements of the Head of State to the Administration, Defence and Security Forces who have turned full circle for the progressive return of normalcy. He cheered them for mastery in handling election matters since 2018 and the relative calm that so far reigns. It was a rare moment for the Minister to extend the condolences of the Presidential couple to the families of those who lost their lives following the recent attack on the convoy of the SDO of Momo Division. He wished quick recovery for those who suffered injuries.
Read also :
CHAN 2020 : le « merci » des volontaires à Paul Biya
Minister Atanga Nji Paul acknowledged resistances in the war against insecurity and challenged parents to step up collaboration with Defence and Security Forces. He sounded unhappy with parents who play games in the face of the socio-political crisis rocking the region because, the future of their children should not be in the bushes. He inspired those in the bush to drop their guns in favour of better opportunities in personal and national development at DDR Centres. The Minister stressed the curses and evil that go with money acquired from ransoms from abductions and threats. In short, Minister Atanga Nji Paul prescribed greater vigilance, increased collaboration with Defence and Security Forces so that the path to normalcy should be successfully covered.
Read also :
Bafut : le BIR reconstruit la sous-préfecture
In reaction, Paul Achombong, Bamenda City Mayor said Bamenda celebrates the Head of State for recognizing special efforts by the City Council to serve the population with a grant to help transportation. "Insecurity has greatly reduced since we prohibited motorcycles from the city centre. The decision brought another challenge without enough township taxis to help matters. That is why we went for buses to serve the population, free of charge. It has not been easy with the City Council's financial limitations to deliver such a service for the past months," he said.
Read also :
Exécutifs municipaux : un an, quel bilan
Same category