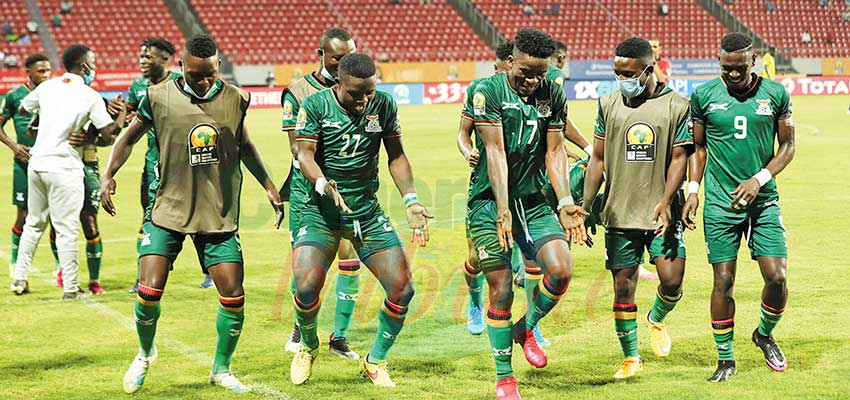 The Chipolopolo beat Tanzania 2-0 in their first group D game yesterday, January 19, 2021 at the Limbe Omnisports Stadium.
Collins Sikombe netted a penalty at the 19th minute of second half putting their team on the lead in a match that had proven barren in the whole first half. A second goal qualified by commentators as legendary came at the 34th minute of second half through a well-connected pass from Sikombe and number 17 shirted Emmanuel Chabula landed the ball into the Tanzanian net. It was an air-borne ball which was skilfully finished in its trajectory with a rare sweeping kick by Chabula. Zambia 2, Tanzania 0. Play continued with near misses from Tanzania that suffered unskilled kicks.
Read also :
Elite One : As Fortuna démarre bien
Despite the three-minute injury time, for the second half, Tanzania multiplied slow kicks and wrong passes though apparently occupying good spaces in the field. Central referee from Algeria, Lahlou Benbraham, put hostilities to an end at 52 minutes passed 6pm with Collins Sikombe selected as man of the match. The central referee was assisted by Cameroon's Elvis Guy Noupue Nguegoue as first assistant and another Cameroonian female referee, as second assistant, Atezambong Fomo Carine.
Read also :
Election à la CAF : voie libre pour Motsepe
The Zambia-Tanzania duel of neighbours kicked off at exactly 5:00 p.m. under the watchful eyes of South West Governor, Bernard Okalia Bilai, who personally came to the field to give impetus to the football jamboree at the Limbe omnisports stadium. The effective play of the matches in Limbe is a veritable test of bravo in keeping security of the area and mitigating the COVID-19 pandemic. That is why all spectators were compelled to wear nose and mouth masks while sitting in the various tribunes.
Read also :
Female Football : Season Resumes After All
Zambia's victory was, however, fought tooth and nail with their physical engagement earning them two yellow cards. Number 22 shirted Tanzanian player, Golden Mafwenta, at the 34th minute of play in the first half and a second yellow sanctioning number 7 shirted Kelvin Kampamba Mubanga just four minutes after.
Read also :
Coton Sport : le come-back dans l'élite
Same category