United States : Joe Biden Takes Command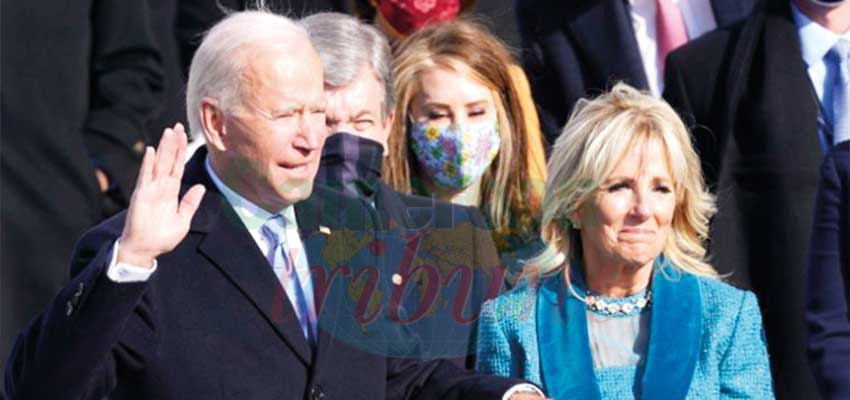 The 46th President of the United States yesterday took the oath of office in an exceptional ceremony void of spectacle due to the coronavirus pandemic.
The United States of America now has a new President. He is Joseph Robinette Biden, "Joe Biden". The 78-year-old President was sworn-in yesterday January 20, 2021 in Washington DC alongside Vice-President Kamala Harris in a colourful ceremony full of security exigencies. On hand to inaugurate the 46th President of the United States outside the US Capitol were two Supreme Court bosses. Chief Justice John Roberts and Sonia Sotomayor.
Read also :
Congo : une deuxième raffinerie en chantier
Mounting the rostrum for the first time as President, Mr Joe Biden, the oldest US President ever, made a plea for national reconciliation and unity among the American people. For more than a quarter of an hour, Mr Biden promised to be the President of all Americans, win the war against terror and white supremacy. "This is our historic moment of crisis and challenge, unity is the path forward. And we must meet this moment as the United States of America. If we do that, I guarantee you we will not fail," he reiterated.
Read also :
Covid-19 Vaccine : G7 Members Pledges Extra Funding
Due to Covid-19 restrictions, the ceremony was void of the cheering throngs of well-wishers traditional at inaugurations and was limited only to members of Congress. Among personalities present were three former presidents: Barack Obama whom Mr Biden served for eight years as vice-president, Bill Clinton and George W Bush. Outgoing Vice-President Mike Pence also attended the ceremony, while incumbent President Donald Trump was not part of the Biden-Harris historic oath ceremony thus becoming the second US president to elude the inauguration of his successor after Andrew Johnson in snubbed Ulysses S Grant in 1869.
Read also :
Algeria : President Dissolves Parliament
While Kamala Harris made history by becoming the first woman and the first black and Asian-American to occupy the prestigious position of vice president, musical performances from Lady Gaga who sang the national anthem, Jennifer Lopez, Garth Brooks and a poem by the first national youth laureate 22-year-old Amanda Gorman graced the occasion. Other evening concerts were slated at the Lincoln Memorial in the city hosted by Tom Hanks and including Bruce Springsteen, John Legend, Jon Bon Jovi, Justin Timberlake, and Demi Lovato.
Read also :
South Sudan : The Path To Reconstruction
It should be noted that because of the Capitol Hill riot, Biden-Harris swearing-in ceremony took place under the watchful eyes of over 25,000 National Guard troops, who were deployed in DC to prevent any other violent insurrection. The troops have been on a 24-hour watch ever since the House voted to impeach President Donald Trump for the second time on Thursday.
Read also :
« La paix est une quête permanente »
Read also :
Présidentielle au Niger : le week-end de vérité
Same category