Presidential Gesture : Houses For 1990 Heroes Soon Available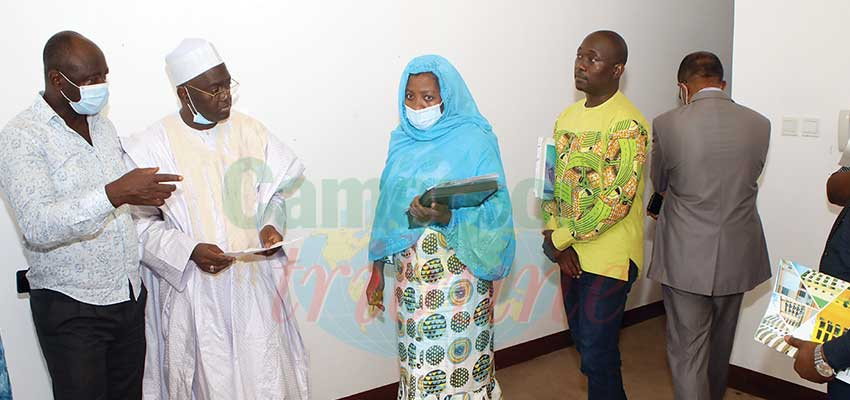 The General Manager of SIC and the Vice President of the Collective of 1990 Indomitable Lions visited the Olembe site yesterday, January 19, 2021.
Despite the delay in the handing over of keys to some former Indomitable Lions resident in Yaounde, their dream will soon come true. An inspection visit of the General Manager of Cameroon Real Estate Corporation (SIC), Ahmadou Sardaouna and the Vice President of the Collective of 1990 Indomitable Lions, Jules Denis Onana, to the Olembe Residential Area, took place yesterday, January 19, 2021.
Read also :
Elite One : As Fortuna démarre bien
During the visit both sides were satisfied with the state of the houses whose keys are to be handed to the Lions in a few weeks even though some final touches are still needed. From the look of things what is left is the completion of titles and small section of the roofing needs to be amended because of some damages that were noticed. Apart from these small hitches, other facilities like water and electricity supply are already in place.
Read also :
Election à la CAF : voie libre pour Motsepe
The General Manager of SIC, Ahmadou Sardaouna, said the visit was to inspect the state of preparedness of the different apartments so as to hand over the keys to the Lions. He said the contract was made since August last year but the main obstruction is the completion of tiles. He assured that by February 10, 2021 all the 1990 Lion will have their apartments, contract and the floors will be completed and validated by the Collective of Former Lions.
Read also :
Female Football : Season Resumes After All
Jules Dennis Onana who was accompanied by Kunde Annette wife of former Cameroon midfield maestro, Kunde Emmanuel, was also happy with the work done and the recommendations made by the Head of the Real Estate Company. He added that those in Douala are already in possession of their houses as promised by the Head of State. Ahmadou Sardaouna used the occasion to inspect the parcel of land belonging to the State, which is being illegally occupied by some individuals. He warned that all land titles belonging to the illegal occupants of government property will be cancelled.
Read also :
Coton Sport : le come-back dans l'élite
Same category