Gradins : Hope Looms At Fans Arena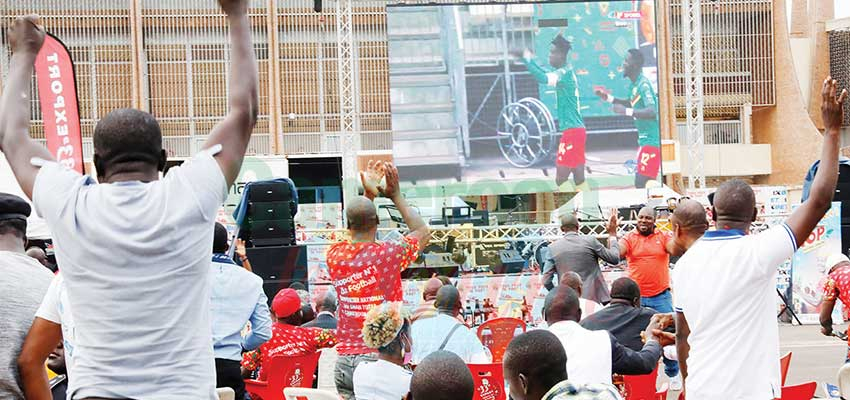 Supporters held their breathes at the Yaounde fan zone all through the Cameroon-Mali encounter yesterday, January 20, 2021 which ended with a draw.
Cameroon's second game of the African Nations Championship against Mali yesterday January 20, 2021 was one of the most awaited encounters given its decisive nature. Reason why several Cameroonians stormed the Yaounde fan zone to live the game which could decide the fate of the country. Few minutes before the encounter, the concentration was on high gear. When the whistle was finally blown, fans stood up, though not at the field to encourage the boys. And yes, it paid as a goal came just about six minutes into the match. But the feelings of uncertainty set in when the Malians netted the equalising goal. Cameroonians shouted in pains and the atmosphere became much of a grave yard a few minutes later. Perhaps, the silence was to gather strength to support the lions as some supporters were heard mimicking "we will win" and "it is not bad". However, the frustrations were obvious as the first half drew to an end.
Read also :
Coton Sport : le come-back dans l'élite
The tensions grew every passing minute during the second half. Some fans could be spotted holding their chests perhaps to avoid a heart attack due to the Malian threats. Some rolled on the floor when Cameroon missed crucial scoring opportunities while others had just their eyes to weep when the Lions' defence proved on so many occasions to be weak. A few minutes to the end of match, many were no longer begging the gods of football for victory, but for a draw. The wait for the last whistle seemed to be too long for some causing them to walk for a few minutes to relieve stress. The calm was real. Very few people spoke to their neighbours until the match came to an end. Some were heard mimicking; "a draw is not bad because we got an additional one point making it four".
Read also :
Election à la CAF : Yahya et Anouma présentent leurs programmes
Same category