North West : Gov't Reassures Safety For Repentant Combatants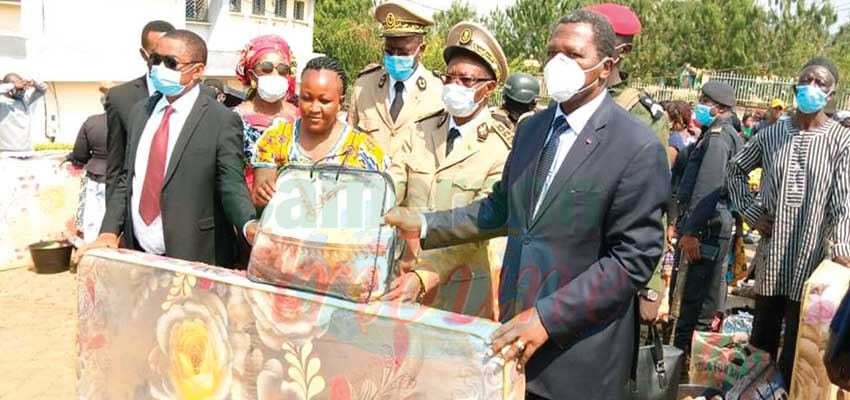 Territorial Administration Minister, Atanga Nji Paul, on January 19, 2021 handed over guns dropped by repentant fighters to NW Gendarmerie Legion Commander.
The visiting Minister of Territorial Administration, Atanga Nji Paul on January 19, 2021 inspired fighters who have taken up arms against the State to harken to calls by President Paul Biya to drop their guns and begin a new chapter of life that inspires hope at DDR Centres where vocational training and other opportunities for personal development and nation building abound. The event in Bamenda featured Minister Atanga Nji Paul presenting some five locally-fabricated guns willingly dropped by fighters in a neighbourhood village. The Minister congratulated the move and said their safety is guaranteed because President Paul Biya has already pardoned all who drop guns in the face of the ongoing socio-.political crisis. He stressed that unwilling fighters will be hunted and revealed that Gendarmerie and Police stations as well as Administrative offices, traditional rulers and ministers of the church are available to receive those who choose reason and drop guns.
Read also :
Cameroon-Turkey : Outgoing Ambassador Bids Farewell
The Minister's day in the North West region started with his outing to the cross border neighbourhood of Santa and Babadjou Subdivisions where some six civilians and defence and security officers on duty were attacked and killed on January 8, 2021. On-the -spot, the Minister revealed that the hunt for the assailants is on course. He prescribed greater vigilance and a security perimeter at the control posts. He condemned what he described as an "isolated attack" by fighters desperate in a lost battle.
Read also :
CHAN 2020 : le « merci » des volontaires à Paul Biya
Same category