Hajaratou Aliou: "Kangaroo Kindled, Restored My Hope"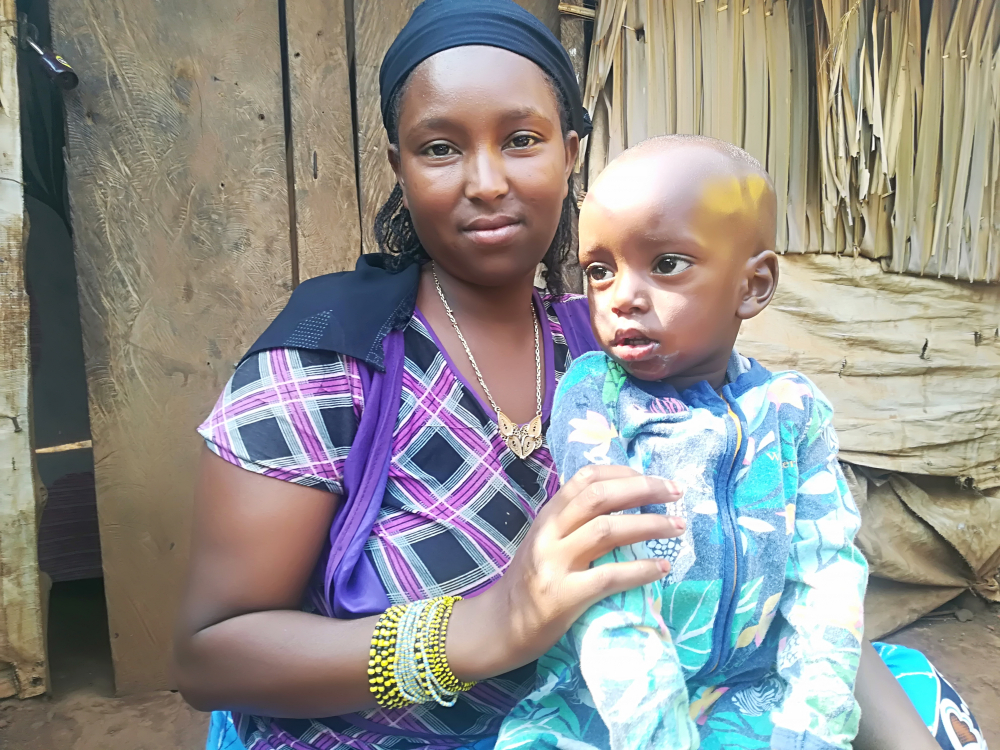 The 23-year-old refugee almost gave up having children after losing two to premature deliveries. But her third straight preterm born survived, thanks to the Kangaroo Mother Care project sponsored by UNICEF.
The pain of losing a baby is better experienced than imagined. Understandably so because those who live the experience – especially women – are often left shattered. With dreams of motherhood almost lost. This is because conceiving is not the easiest of things for thousands of women. But the case of Hajaratou Aliou, a Central African Republic, CAR refugee in Gado Badzere Camp in Cameroon's East Region, was more than "mere" bad luck. It was simply a double tragedy!
Read also :
Education : de nouveaux établissements dans le secondaire
Hajaratou, 23, had the misfortune of losing her first two babies. Because they were all delivered premature. And there were no incubators around to save them. Not giving up yet on having a baby, Hajaratou again took in, delivering her third child, a baby boy, Abdoul Ganiyou. He was born 23 months ago in Garoua Boulai District Hospital, 25km from the refugee camp. Again, it was another premature delivery! With the baby weighing only 1.9 kg. Low birth weight babies, it should be recalled, are those below 2.5kg at birth.
Read also :
Yaoundé : deux nouveaux cas de poliomyélite notifiés
Fortunately for Hajaratou, some staff of Garoua Boulai District Hospital had received training – with the support of the United Nations Children's Fund, UNICEF - in Kangaroo Mother Care, KMC. This is a personalised child care method meant to maintain preterm and low birth weight babies alive. Until they gain weight and live normally. "The midwives introduced us to KMC, and ever since, the baby is doing fine. I now sensitise refugee women to take any premature babies to hospital where they will be given kangaroo mother care. Keeping such babies at home endangers their lives," Hajaratou warns.
Read also :
Entrée à la Gendarmerie nationale : ça se bouscule
"My husband is a happy man now because we listened to the counsel of the midwives, opted for KMC and saved the life of our son - our very first child - Abdoul Ganiyou," says Hajaratou Aliou. She would like to see their son become a nurse or medical doctor in order to help save lives.
Read also :
Test PCR pour voyageurs : le concours de patience
"The death of Hajaratou Aliou's first two babies and her subsequent KMC experience encouraged her to join us in sensitising refugee women on this method of raising premature babies and those with low birth weights," says Meka Monique Blanche, who serves with the Africa Humanitarian Action, AHA charity in Gado Badzere Refugee Camp. As midwifery supervisor in the camp, Monique has been following up Ganiyou and other refugee babies placed on KMC care.
Read also :
Langues nationales : le secondaire se met à la charge
Bahane Valerie Therese, Matron of Garoua Boulai District Hospital Maternity, received training in KMC. She took care of Ganiyou in hospital until he gained enough weight to return home. "Most women with babies on kangaroo care in our hospital come from Gado Badzere Refugee Camp. When they return home, I liaise with Meka Monique Blanche for continuous follow-up in the camp. She reports to me regularly on how the babies are faring. We have been working together since November 2019, and all has been going well," Bahane notes.
Read also :
« Le bilan est satisfaisant dans le primaire »
"Premature and low birth weight babies born out of hospital and brought to us late are usually exposed to cold and falling temperatures. Because the mothers are ignorant of kangaroo care method. This is the main reason why such babies die easily," Bahane explains. "If premature children are born in hospital, the mothers will immediately be introduced to KMC, thereby saving their lives - no matter their weights. Save those with unstable health conditions who require stabilisation before being placed on KMC," Bahane clarifies.
Read also :
Axe Foumban-Bangangté : cinq morts sur la route
Same category