Youth Day : Activities Rated Satisfactory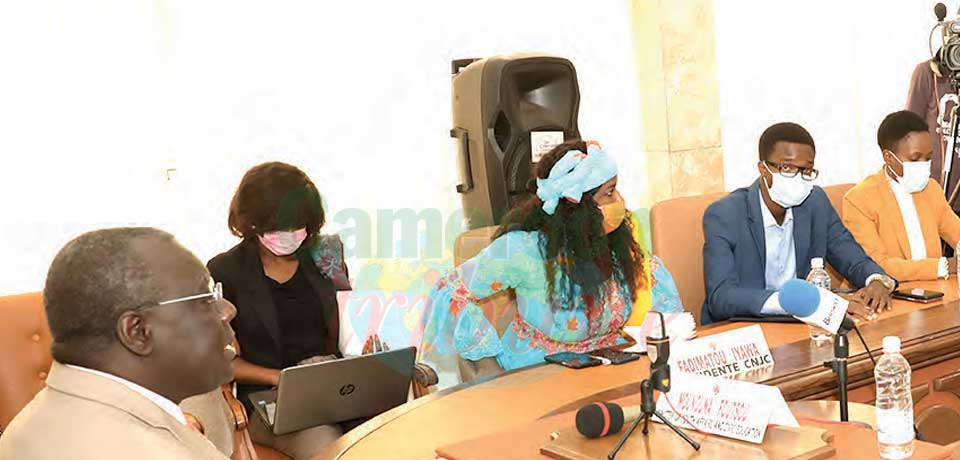 An evaluation meeting of the just-ended 55th Youth Day celebration took place last Friday February 19 via videoconference.
The Minister of Youth Affairs and Civic Education, Mounouna Foutsou, has been lauded for the innovative ideas used in commemorating the 55th Edition of the Youth Day. This was during a physical and video conference meeting with partners, structures, regional officials and leaders of youth movements and associations in Cameroon and abroad.
Minister Mounouna Foutsou chaired the meeting via videoconference on February 19, 2021. The aim of the meeting was to make an exhaustive assessment as concerns the organisation of the 2021 edition of the National Youth Day, both at the National and at Regional levels while gathering proposals in view of improving upon the 2022 edition. Over 20 partners connected from all over the world to give their appraisal of the Youth Day commemoration, which was not only satisfactory but also exceptional without the usual March-Past parade. The theme of this year's celebration was; "Youth, Resilience, Challenges and Opportunities in Times of Covid-19."
The videoconference ran for over three hours. Those who spoke first were representatives from the different ministries. Although they all had congratulatory messages from their different Ministers to the Minister of Youths, they however had specific recommendations. Such was the case with the representative from the Ministry of Basic Education who said when involving pupils from primary schools in the "Youth Village" programme; it should be between 1:00 pm and 4:00 pm. This is to permit parents easily accompany their children back home after the programme. Those in the Diaspora thanked the Minister of Youths for his open spirit used in involving all youths in activities commemorating their day. The Representative of African Network of Germany said the innovative ideas used should be encouraged and fostered for the wellbeing and unity of youths in Cameroon and abroad.
Seven major areas of activity guided the events of the 55th edition of the 2021 edition of the Youth Day. Amongst which were awareness-raising activities, information, training and exchange activities and socio-economic integration.

Same category