Australian Open : Novak Djokovic, Naomi Osaka Triumph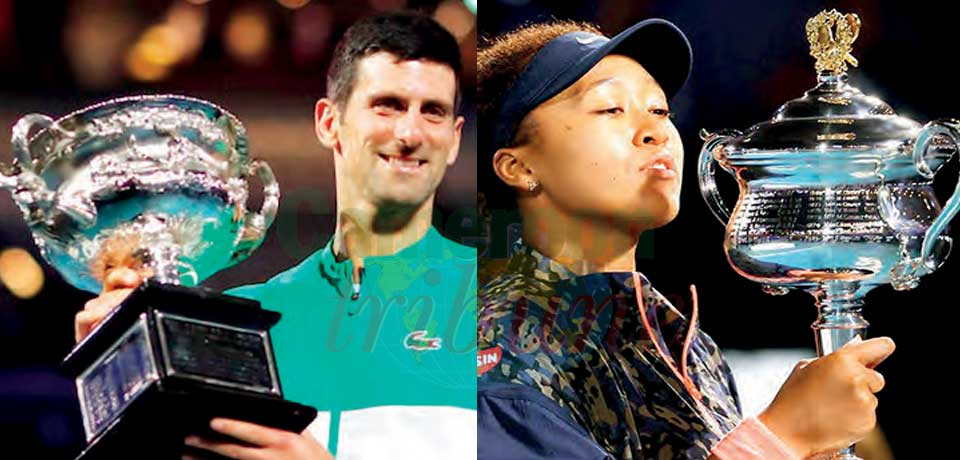 The two top seeds in world tennis emerged winners at the prestigious tournament that ended at the Melbourne Park on Sunday February 21, 2021.
Novak Djokovic has won his ninth Australian Open title after beating Daniil Medvedev in the final on Sunday, February 21, 2021 at Melbourne Park. Top seed Djokovic won 7-5 6-2 6-2 to claim his 18th Grand Slam. The 33-year-old Serb has never lost a final at Melbourne Park and beating Medvedev is a third triumph in a row. He clinched the title after one hour and 53 minutes. Djokovic's victory leaves him two Grand Slams behind Roger Federer and Rafael Nadal in the three-way battle to finish with the most men's titles. Next month Djokovic is guaranteed to reach one of his major career goals by surpassing Federer's record of 310 weeks at world number one. Djokovic's victory comes with the backdrop of the coronavirus pandemic and players forced into 14-day quarantine on arrival.
Japanese star, Naomi Osaka, dominated Jennifer Brady 6-4, 6-3, to win her second Australian Open title and improve her record in grand slam finals to 4-0. In doing so she became the first woman since Monica Seles 30 years ago to win her first four grand slam finals, a feat that not even greats like Serena and Venu...
Same category