Mali : Woman Gives Birth To Nine Children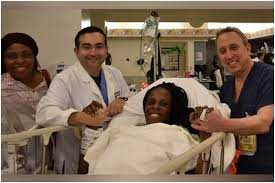 25-year-old Halima Cisse was flown to Morocco after Malian medical authorities realized she needed specialist care.
A Malian woman on Tuesday, May 4, 2021 gave birth by Caesarean section to nine babies, two more than doctors had detected inside her crowded womb joining a small pantheon of mothers of nonuplets. The pregnancy of Halima Cisse, 25, has not only been fascinating, but attracted the attention of top Malian leaders. After a two-week medical stay at a hospital in the Malian capital Bamako, the doctors requested specialist care for the rare case. On instructions of the Interim President of Mali's Transitional Government, Bah Ndaw, she was flown to Morocco accompanied by a Malian doctor, where she was admitted in a clinic for treatment on March 30, said the ministry's statement.
Read also :
Côte d'Ivoire : Gbagbo est de retour
Four days after, a team of Moroccan doctors working hand-in-glove with Mali officials have made history for Africa as, "The newborns (five girls and four boys) and the mother are all doing well," Mali's health minister, Fanta Siby, told AFP. Siby also offered her congratulations to "the medical teams of Mali and Morocco, whose professionalism is at the origin of the happy outcome of this pregnancy".
Read also :
Retour de Laurent Gbagbo : c'est le jour-J
Halim Cisse was expected to give birth to seven babies, according to ultrasounds conducted in Morocco and Mali that missed two of the siblings. All were delivered by caesarean section. Nonuplets are extremely rare. Moroccan health ministry spokesman, Rachid Koudhari said he had no knowledge of such a multiple birth having taken place in one of the country's hospitals.
Read also :
Grand barrage de la Renaissance : la Ligue arabe divisée
Medical complications in multiple births of this kind often mean that some of the babies do not reach full term. The first recorded set on nonuplets was in Sydney in the 1970s. None of the babies survived. In 2009, a woman in the United States, with all eight babies surviving past birth. More recently (2019), a woman in Texas gave birth to sextuplets, two sets of twin boys and one set of twin girls. Malian authorities say Halima and her babies are due to return home in several weeks' time.
Read also :
Israel : Naftali Bennett Takes Command
Same category