Star Building : PM Receives Lamido of Ngaoundere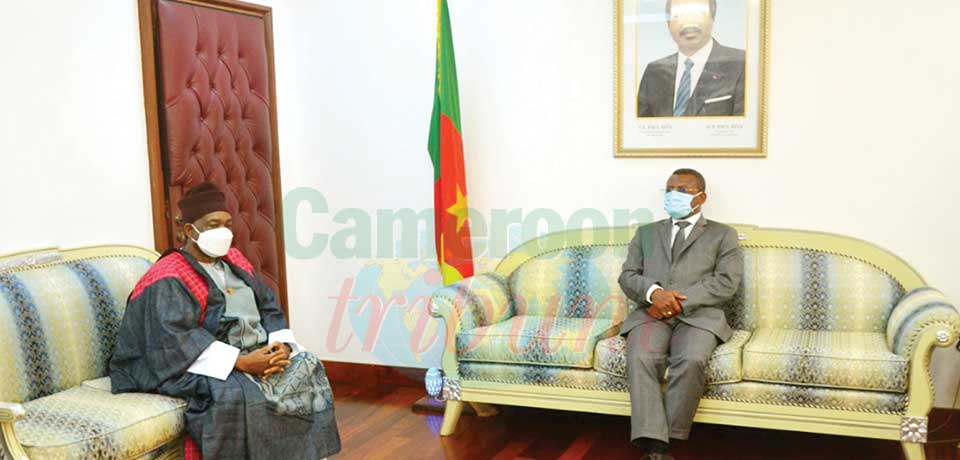 Discussions during the audience of June 3, 2021 focused on the role of traditional rulers in promoting development.
Read also :
UPC : Calls for Reconciliation, Unitary Congress
Prime Minister, Head of Government, Chief Dr Joseph Dion Ngute on June 3, 2021 had discussions with the Lamido, traditional ruler of Ngaoundere, His Majesty Mohamadou Hayatou Issa at the Star Building in Yaounde.
Read also :
« Je souhaiterais faire partie des décideurs de demain »
The traditional ruler made no declarations to the press after the discussions. However, information filtered out that they discussed the situation of life in Ngaoundere, the capital of the Adamawa Region, efforts put in place to accompany local development and improve the living conditions of the population. The Prime Minister who is also a traditional ruler and his guest also reportedly exchanged on ways by which government can accompany traditional institutions to play a more direct role in development efforts and promote tourism with the case of Ngaoundere as a point of reference.
Read also :
Cameroun – Congo : coopération frontalière satisfaisante
His Majesty Mohamadou Hayatou Issa has been on the throne of the Lamidat of Ngaoundere for over 25 years. It was created in 1836 and is said to be one of the biggest in the Northern part of Cameroon. The audience with the Prime Minister from every indication translated the prominent place traditional rulers who are auxiliaries of the administration now play in the management of State affairs. They are members of the Regional Councils in their capacity of representatives of traditional authorities, some are on the State payroll and they increasingly occupy key positions in the different State structures.
Read also :
Jacqueline Koung à Bessike : le dernier hommage de la Nation
Same category