Tour of Cameroon : Kamzong Grabs Yellow Jersey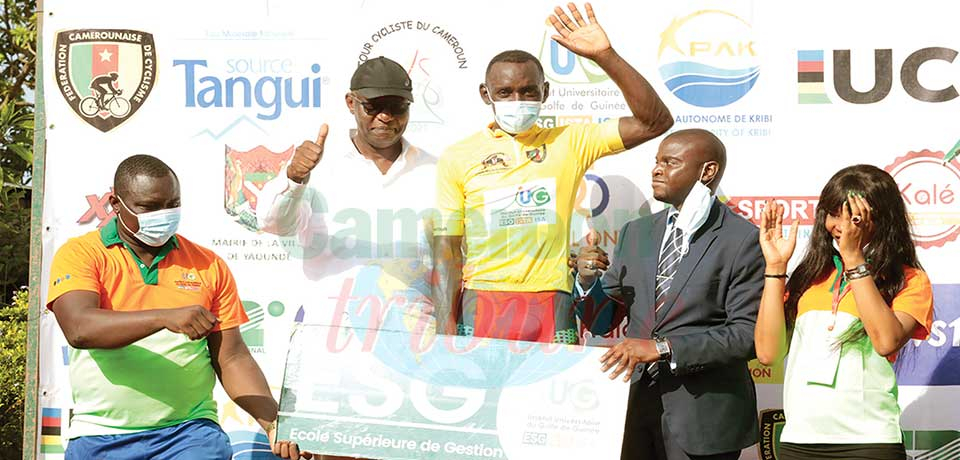 The cyclist from the SNH Vélo Club finished first on the general classification table at the end of the sixth lap that took place along the Douala-Kribi highway yesterday June 3, 2021.
Things seem to be going on well for the Cameroonian cyclists at the ongoing 17th edition of the International Cycling Tour of Cameroon. Clovis Kamzong Abossolo of the SNH Vélo Club won the yellow jersey for the best cyclist in the competition at the end of the sixth lap that took place along the Douala-Kribi highway yesterday, June 3, 2021. The cyclists rode through the city of Douala before the take off proper a few kilometres from the city centre. From take-off, the Cameroonian cyclists were conscious of the task ahead of them. A group of ten riders led the race from the start to finish. Clovis Kamzong Abossolo was the only Cameroonian in the group. He had to deal with cyclists from Bulgaria, France and Burkina Faso. In the second bulk of riders, Kossoko Sadikou of the national cycling team was the only Cameroonian as they struggled to catch up with the first group of riders.
Read also :
Coupe de la Confédération : Coton Sport dominé par la JSK
It was a tedious lap and equally the longest lap in the competition. Four kilometres to the arrival point, Kamzong Abossolo held on till the end. At the end of the race, Welling Sybren from Global Cycling Netherlands finished first winning the race in 4h18'40". He was followed by Sanogo Abou from Côte d'Ivoire and Daumont Paul from Burkina Faso at the same time record. Kamzong Abossolo finished 04" from the winner. The blue jersey for the best Cameroonian went to Clovis Kamzong Abossolo. The white jersey for the best youth went Leonien Alexandre from Martigues Sport France. The white red dotted jersey for the best climber went Genov Nikolay from Bulgaria. The green jersey for the best cyclist on points was won by Daumont pal from Burkina Faso.
Read also :
Indomitable Lionesses : Gabriel Zabo Appointed New Head Coach
In the overall classification, Kamzong Abossolo is leading with a time record of 18h31'08". Andreev Yordan from Martigues Sport is second with 12 seconds behind Clovis Kamzong Abossolo and Genov Nikolay from Bulgaria is third with 25 seconds behind the leader. Kamzong Abossolo has taken over the yellow jersey from Leonien Alexandre who kept the jersey for two laps. Today will be rest day for all the delegations in Kribi. The seventh lap will take place along the Boumnyebel-Mbalmayo highway tomorrow June 5, 2021 over a distance of 112 km.
Read also :
CAN de handball dames : en apothéose
Same category