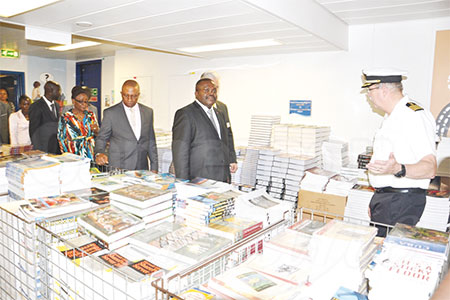 A ship carrying 5,000 books and 400 volunteers is in Douala for 17 days.
"Logos Hope," the largest floating book fair ship in the world is in Cameroon for the first time to bring knowledge, help and hope to the people through the sale of books, organisation of lectures, offer of donations to organisations and sharing life experiences. The vessel, which left Gabon for Cameroon, is a non-profit-making company that sails round the world, offering books at cheaper rates, while impacting the lives of people.
The fact that Logos Hope boasts over 400 volunteers from 60 nationalities is telling of the non-lucrative goal. The quality books sold at affordable prices include subjects in science, technology, philosophy, sports, cookery, hobbies, leadership, management, business and marketing, marriage, family life, children, craft, animals, and theology.
Speaking at the opening of the book fair, the Director of Logos Hope, Seelan Govender, said it is all about making a difference in people's lives. "Logos Hope is more than just the world's largest floating book fair. It is a family of 400 God-fearing people from 60 different countries with diverse cultures. We help make a difference in the lives of the people we meet through three words; knowledge, help and hope," he disclosed.
Book Fair Manager, David Waugh, reiterated Logos Hope's non-lucrative goal, saying "Money made from selling books is used for ship maintenance and to purchase enough stocks for other ports that will be visited in order to fulfil our bringing knowledge, help and hope vision."
Same category