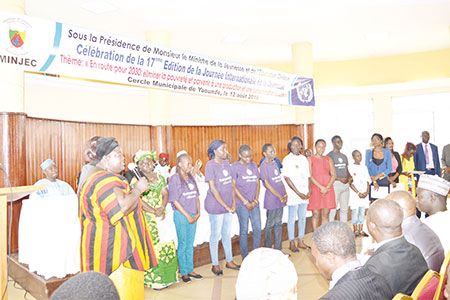 The day was commemorated last Friday worldwide.
On the occasion of the 17th edition of the International Youth Day, the government celebrated youths who have made Cameroon proud on the international scene. During a ceremony to mark the day last Friday August 12, 2016 in Yaounde, under the theme: "On the way to 2030: eliminate poverty and attain a sustainable production and consumption rate", the Minister of Youth Affairs and Civic Education, Mounouna Foutsou in the presence of the Minister of Communication, Issa Tchiroma, said Cameroon has creative and dynamic youths who are capable of doing many things to bring change in their environment as well as sustainable development to the country. That is why the government used the opportunity to recognise those youths who have earned international recognition because of their works in different professional domains.
During the event the country representative of UNESCO, read a message from the Director-General of UNESCO, Irina Bokova. In her message, the UN scribe said young people are not only the future but also the present and currently the majority on the planet with 1.8 billion young women and men. Irina Bokova in her message noted that young people are the most connected, outspoken and open minded; making them powerful agents for positive change, essential to taking forward the 2030 agenda for sustainable development. According to Irina Bokova, there can be no sustainable development if young people continue to remain on the side-lines. That is why she used the day to call on all Members States and UNESCO partners to support youth initiatives and give them a voice for a sustainable development.
Ahead of the day, a colloquium was organised with youth organisations on the sustainable development goals in a bid to know how they can fully participate in the implementation of the sustainable development goals.
Same category