Cameroon, Nigeria : Federating Efforts Against Common Challenges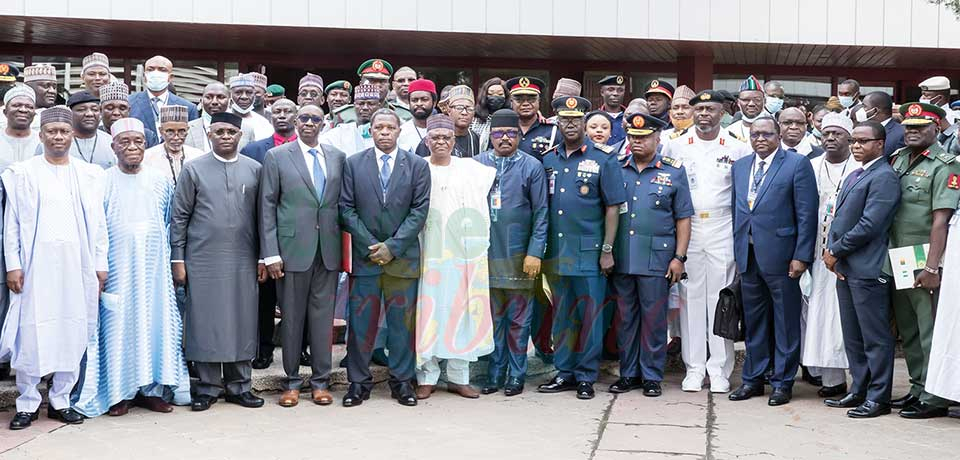 The 8th session of the Cameroon-Nigeria transborder security committee ongoing in Abuja is seeking ways of containing growing threats along the close to 2,000km border line for inhabitants of both countries to live in tranquillity.
Cameroon and Nigeria are two brotherly countries sharing some 2, 000km boundary lines in five regions notably the Far North, North, Adamawa, North West and South West. In effect, what unites the two countries is more than what divides them. People-to-people relationship is excelling with huge similarities in cultures and successive leaders of the two countries have been working tooth and nail to deepen bilateral cooperation, challenges notwithstanding.
The geographical location of Cameroon and Nigeria and the historical and cultural links binding the two countries oblige them to share a lot in common: Successes and failures. For, whatever affects one affects the other. Overcoming common threats to peace and security notably terrorism, armed banditry, maritime piracy, trafficking of all sorts, agro-pastoral conflicts, hunting in reserves and parks along the border areas requires synergy. The threats are such that common success requires harmony in intelligence work and information sharing.
It is certainly an open secret that Cameroon is host to thousands of Nigerian refugees fleeing Boko Haram and Nigeria also harbours as many Cameroonians escaping threats from separatist fighters in the North West and South West Regions. The two menaces have the same hit-and-run tactics and greatly threaten the peace and security of persons and goods.
The 8th session of Cameroon-Nigeria Transborder Security Committee that began in Abuja, Nigeria yesterday August 24, 2021 is therefore seeking ways of harmonising strategies in containing the growing threats to life and livelihood. The presence of five Regional Governors from Cameroon whose areas of jurisdiction share borders with Nigeria alongside their peers from Nigeria is thus an opportunity to revise notes on field realities and seek ways of containing the threats. The Cameroonian delegation also comprising the Minister Delegate to the Ministry of External Relations in charge of Relations with the Commonwealth, Felix Mbayu, the Secretary of State in the Ministry of Defence in charge of the Gendarmerie, Galax Etoga, the Director Generals of Customs and that of External Research as well as other senior officials of the Military, Police, Justice and related administrations led by Territorial Administration Minister, Atanga Nji Paul is illustrative of the issues at stake.
In his statement during the opening ceremony at the Abuja Hilt...
Same category