Remembering Prof. Daniel Lantum : Religious, Cultural Display Honour Fallen Hero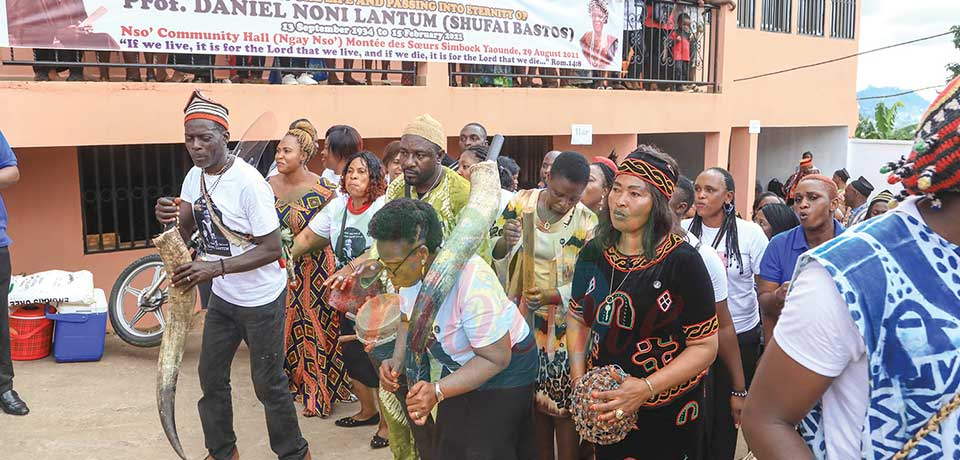 The Nso community in Yaounde gathered over the weekend to pay tribute to their own "Koffi Annan" who died last February.
Well wishers, different cultural groups from the North West Region, particularly those from the Nso Community (Nso'Bati) in Yaounde gathered at the Nso Community Hall at the Simbock neighbourhood on Sunday August 29, 2021 to pay homage to their "Poet", "Doctor", Peace Maker", "Father" and "Teacher" late Professor Daniel Noni Lantum (Shufai Bastos). He passed away on February 15, 2021 in Yaounde and his death still shocks the Nso Community and the entire Bui Division. The event that was chaired by the Grand Chancellor of National Orders, Philemon Yang, started with a Holy Mass celebrated by Rev Zephyrinus Mbuh and ended with a cultural display. A delegation of the Mandjara women from Bamoun that have historical roots with the people of Nso equally joined in the celebration.
At the Nso'Bati community hall the different dance groups celebrated the life and passing into eternity of late Prof. Lantum in traditional rhythms and dance styles which did not only portray the love they had for their departed father, but also his affection for the Nso culture. The President General of Nso'Bati Yaounde, Wirngo Abel Wiysahnyuy in his welcome speech rained praises on the late Professor. "He was a registered, active and committed member of Nso'Bati Yaounde who contributed towards the construction of the community hall where they had all gathered to honour him." Prof Daniel Noni Lantum was a great promoter of Nso culture and developmental projects and activities, he said, adding that he was like our own "Koffi Anan" in the settlement of conflicts in the community. He further explained that Shufai Bastos was not immediately given the befitting burial he deserved as an illustrious son of Nso due to the prevailing crisis in the North West Region. That is why they were gathered at the Nso Community Hall in Yaounde for a merited homage.
Friends and family members took turns to remember the fallen hero who had served the country nationally and internationally in various capacities. His daughter, Dr Marjorie Lantum said she was not surprised with such an event in honour of her late dad given what he had done to help many sons and daughters of Nso academically and otherwise. To fulfill the wishes of their father, the family, through the first son, announced a number of projects to be realised in his honour. These include; supply of two trips of sand for construction in Nso Palace, two scholarships to the best First School Leaving Pupils to study in St. Augustine's College, Nso and the handing over of Professor Lantum's books to the Catholic University in Kumbo. Prof. Lantum was also a politician and a Catholic Christian whose activities were duly recognised by Rome. Farewell, the Nso community continues to pray for another Shufai Bastos who will continue from where he ended.

Same category