Promoting Basic Education : World Bank Lauds Cameroon's Efforts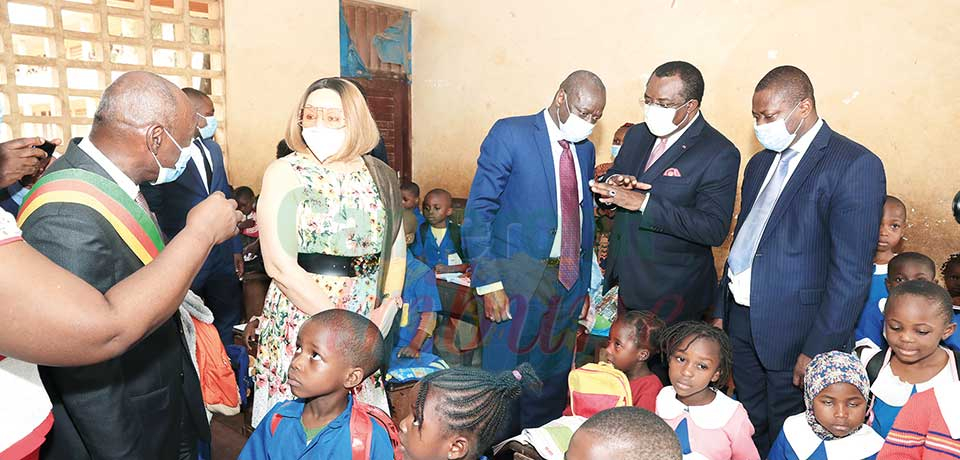 The visiting World Bank Vice President for Western and Central Africa, Ousmane Diagana had a working visit with the Minister of Basic Education yesterday, Sept 14.
The World Bank Vice President for Western and Central Africa, Ousmane Diagana has lauded successes achieved by Cameroon within the framework of the World Bank-Cameroon Cooperation in improving the quality of primary education and ensuring sustainable growth. This was during a working visit to the Ekounou Bilingual Nursery and Primary School Complex, accompanied by the Minister of Basic Education, Laurent Serge Etoundi Ngoa.
Ousmane Diagana was out to see for himself how school pupils were using the textbooks donated by the World Bank to the government of Cameroon via the Cameroon-World Bank project dubbed Cameroon Education Reform Support Project (CERSP). Within CERSP, some 13,000 public schools will benefit from Mathematics, English and French textbooks to be used in Class One and Two in the Anglophone subsystem of education and Cours Préparatoire (CP) and Section d'Initiation au Language (SIL), in the Francophone subsystem of education. The Minister of Basic Education began distributing the books last October 2020 at the Government Bilingual Primary School Bastos, Yaounde. Yesterday, September 14, 2021 was the turn of the pupils of the Ekounou School Complex. Distributions of the books will continue up to 2022.
While at the Ekounou School Complex, Diagana was amused to be amongst primary school pupils, saluted the engagement taken by the government of Cameroon to ensure that children go to school and obtain basic education. He appreciated the manner in which the government is strengthening the quality of basic education. He said kids who have no parents and are also facing the consequences of the security crisis rocking some regions in the country should benefit from exceptional support. He said, the World Bank is going beyond their educational needs to health, social protection and educational infrastructure. The World Bank official was satisfied to be in partnership with the Ministry of Basic Education in offering quality education to children, through the donation of books in the sector.
According to the Minister of Basic Education, the challenges in the sector keep increasing especially when it comes to distant learning which is emerging worldwide. He said Cameroon has some six million pupils nationwide and infrastructures are a major problem. The World Bank, he said, is a privileged partner who knows the needs of the ministry especially when it comes to teachers and pedagogic tools. The Minister of the Economy, Planning and Regional Development, Alamnine Ousmane Mey and the Secretary of State at the Ministry of Basic Education, Asheri Kilo, were also present at the working visit.

Same category