Somalia : Presidential Election Date Maintained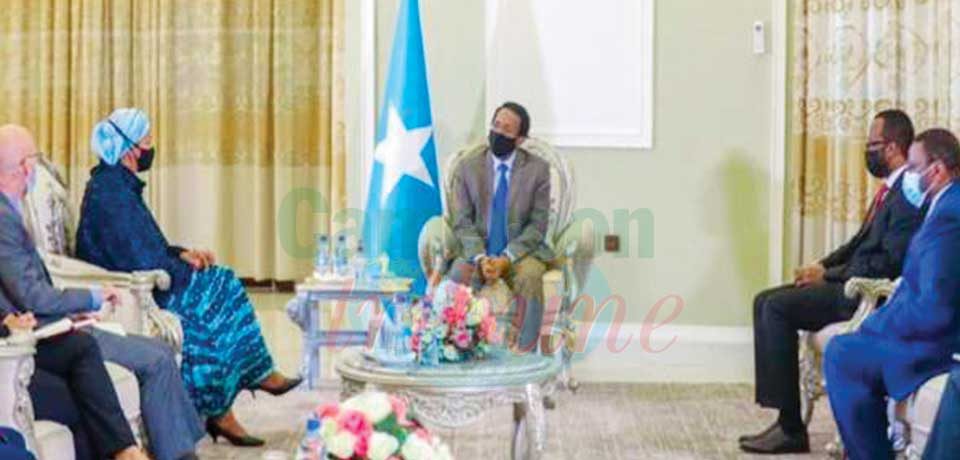 The assurance was given by Prime Minister Hussein Roble after an audience with a United Nations Delegation.
The Prime Minister of the Federal Republic of Somalia, Mohamed Hussein Roble has confirmed the holding of the country's Presidential elections on October 10, 2021. Speaking in the capital Mogadishu after receiving a visiting United Nations delegations led by its Deputy Secretary General, Amina Mohammed, PM Roble said the his dispute with President Mohamed Farmajo will not affect plans for long-delayed elections. "We are committed to holding the elections as planned and other existing matters will not have any effect on the elections," He reiterated.
Despite the leaders reaching an agreement that fixed the elections calendar from October to November 25, 2021 following months of deadlock that turned violent at times, the dispute between the two leaders, sparked by the government's handling of a missing spy's case, has raised fears that the electoral process could suffer further setbacks. On Sunday, September 12, 2021, the UN deputy Chief after meeting PM Roble, President Farmajo and members of the National Consultative Council (NCC), whose membership includes the leaders of the country's federal member states and who are charged with providing the overall direction for the elections, urged them to avoid any moves that "could lead to violence and further delay the elections or undermine its credibility". The warning came after leaders of Somalia's South West and Galmudug regional states had launched fruitless moves aimed at defusing the tension between the President and Premier Minister.
Several months ago, President Mohamed Farmajo and the leaders of Somalia's five states had been unable to agree on the terms of a vote before his term lapsed in February, 2021 triggering an unprecedented constitutional crisis. The political impasse exploded into violence in April when negotiations collapsed and the lower house of parliament extended the president's mandate by two years, sparking gun battles on the streets of Mogadishu. Under pressure, the president, reversed the mandate extension. In May, the warring leaders announced plans to commence the multi-stage election process within 60 days, helping ease political tensions.

Same category