Situation in NW/SW: MINDEF Announces Adjustments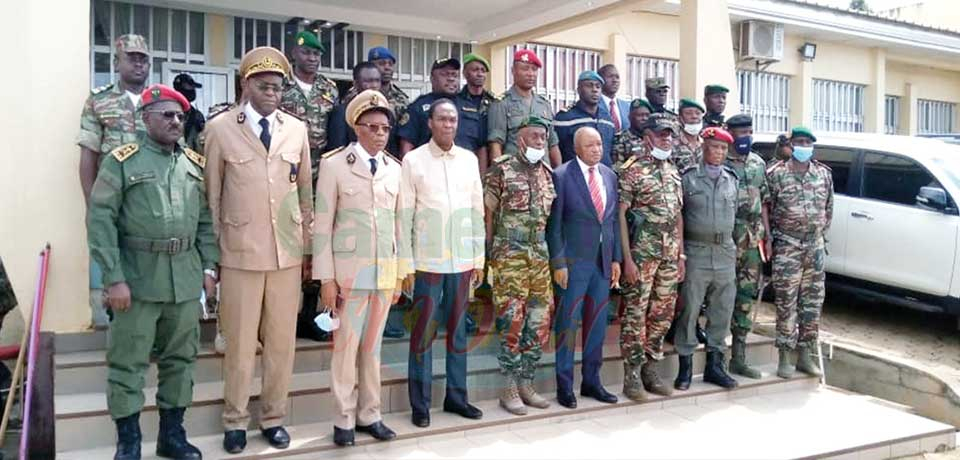 Minister Joseph Beti Assomo sized up new security challenges in Bamenda on September 22, 2021.
The stakes are higher in the face of the security crisis rocking the North West Region and the Minister Delegate at the Presidency in charge of Defence, Joseph Beti Assomo has declared adjustments and undisclosed actions to tackle the situation.
Sizing up the situation during an emergency outing in Bamenda on September 22, 2021, the visiting Minister transmitted the condolences of the President of the Republic and Commander-in-Chief of the Armed Forces to the bereaved families of security and civilian victims, on the aftermath of the recent bloody and tragic attacks on defence and security forces in Ngoketunjia and Bui Divisions of the region.
In a declaration after an in-camera working session with Military Chiefs and Administrative authorities led by Governor Adolphe Lele Lafrique, Minister Joseph Beti Assomo hailed the bravery, tenacity and high moral of defence and security forces on the field who are united in the conduct of ongoing operations to ensure the preservation of the territorial integrity of the nation. He saluted the population that braves fear and threats to support the forces of law and order in the consolidation of achievements so far in the operations.
It emerged from the declaration that separatists who have taken up arms against the State are now armed with sophisticated equipment from human and external support. Major Bikoy Eugene commanded the troops that welcomed and bid bye to Minister Joseph Beti Assomo at the Command Post of the 5th Joint Military Region.
Same category