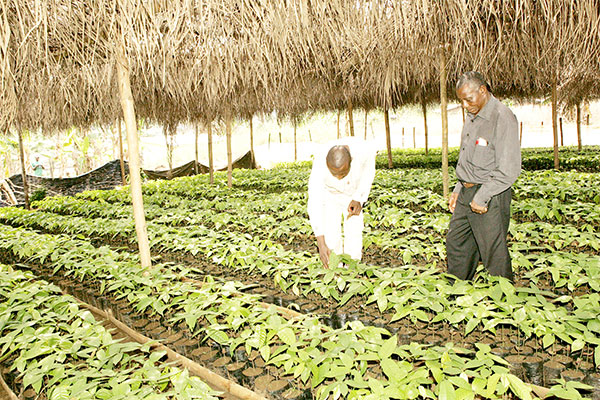 Eight companies received funding from government through the French Debt Relief Development Contract, C2D.
The Support Programme for Agricultural Research, PAR, which is part of the French Debt Relief Development Contract, C2D, has offered funding to eight small and medium-size enterprises worth FCFA 320 million to foster research and development as part of efforts between Cameroon and France to create jobs and improve livelihoods. The contract was sealed by the Secretary General in the Ministry of Research and Scientific Innovation, Rebecca Ebele Etame and promoters of the companies in Yaounde on August 1, 2016.
KEMIT ECOLOGY is to produce ecological charcoal from organic waste. The Douala-based SME is expected to offer alternative fossil fuels energy solutions that fight against global warming. Living Forest Trust intends to rear edible insects and in so doing develop micro-enterprises for producers in the Centre Region. The entity is ready to offer new farming techniques for larvae insects that are a source of alternative proteins for human and animal nutrition, as well as the conservation of biodiversity. The installation of a pilot plant for membrane separation for the production and marketing of active plants geared at improving the quality of food drinks is a project of the St Jerome Catholic University, IUCSJ. The TF-RD Company in the East Region will improve revenues for communities in the Dja Reserve through the introduction of innovative techniques to adding value to non-forest products.
Meanwhile, GEOVECTORIX will put in place a platform for professionalism that will at the same time perfect the management of incubators and interpret geo localized data. COOP-CA–PROBAPAM, in the East Region, plans to develop new production techniques for plantain Abong Mbang while the BAKA BIOSPHERE, still in the East Region, is proposing to create a production and processing plant for maize, cassava and sweet potato. Promoting the marketing of pork as new food formula is a project of CARITAS Obala in the Centre Region. The cooperatives are expected to carry out research focused on innovation and development in the fields of production, processing and agricultural marketing in Cameroon.
Same category