New Year Wishes: 26 Bouquets Of Flowers For Chantal Biya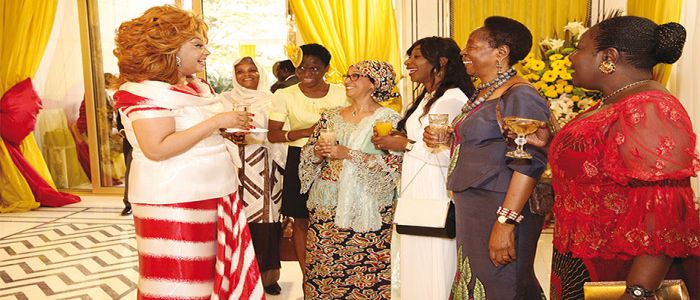 Traditional New Year wishes to the First Lady were graced by carousing on January 7, 2016.
26 delegations of women from all walks of life in Cameroon answered present at one of the courtyards of the Unity Palace over the weekend on January 7, 2016 to wish the First Lady of Cameroon, Mrs Chantal Biya, "Happy New 2017". Beginning with a delegation of wives of diplomats to Cameroon, to wives of Senate members and ending with a delegation of Baka-Bororo people (a minority group of people in the country), these women each took time off to shake hands with the First Lady of Cameroon in all conviviality.
The east wing of the Unity Palace was jammed to capacity over the weekend. The white and yellow decoration of the environment added colour to the event. Women in attractive outfits began entering the ceremonial ground as earlier at 11:00 a.m. Background music from Brice Band added sound to the event. As guests took their seats around tables adorned with flowers and eatables, over 20 local artistes took strategic positions at the ceremonial ground to spice the event in soul-touching tempo. At about 1:45 p.m, State Protocol gave the necessary signal, and first part of the event, which was devoted to wives of ambassadors and other diplomats.
The wife of the Russian Ambassador, who is Vice-Dean of the Diplomatic Corps to Cameroon, Elena Ratsiborinskaya, headed the delegation of wives of diplomats with a bouquet of seasonal flowers. Elena Ratsiborinskaya and her peers, who are mostly members of the diplomatic wing of the Circle of Friends of Cameroon (CERAC), did not just exchange hugs with the First Lady but also took time to briefly chat with the Founding President of CERAC. Mrs Biya and her guests sipped some refreshments as they conversed. Before departure, the First Lady presented her guests with gifts.
The wife of the Senate President, Marcie Niat, opened the presentation of New Year wishes to Cameroon's First Lady by wives of national dignitaries. 25 delegations of women, over 1,500 of them, from all sectors in the country, constituted the second part of the event.
Amongst this group, one could see a delegation of wives of cabinet ministers, CERAC members, female entrepreneurs; female parliamentarians and Mayors, wives of CPDM Central Committee members, a delegation from the Chantal Biya Foundation as well as other structures spearheaded by the First Lady, amongst others. With a bouquet of fresh flowers, hugs and souvenir pictures, women in the various groups wished Mrs Biya the best for the New Year. Local artistes such as Tata Kingue, Ateh Bazore, Nkotti Francoise, Aminatou Oualle, Ben Decca, Keng Godefrey, graced the occasion which saw its end at the dusk.
Same category