Cameroon-Algeria : Ambassador Elevated To Grand Officer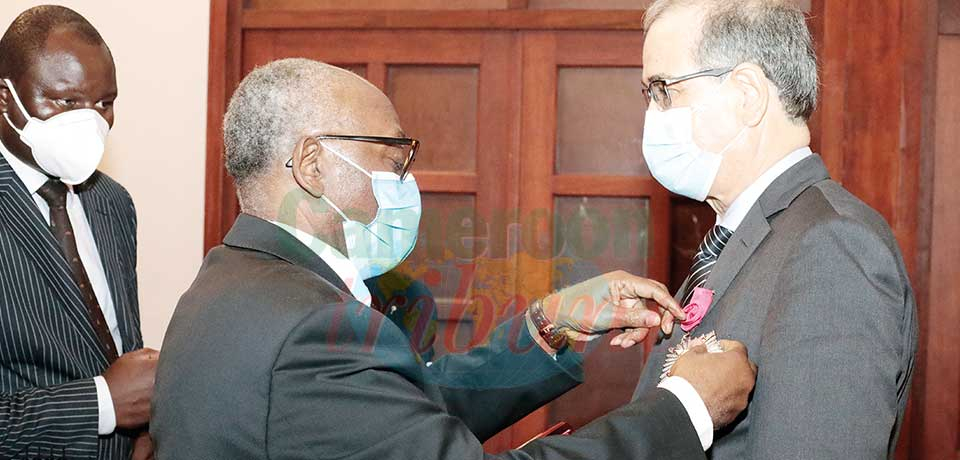 This was during a State diner offered in his honour on October 21, 2021.
Outgoing Ambassador of Algeria to Cameroon, Merzak Bedjaoui has been decorated with the medal of Grand Officer of the National Order of Valour. He was decorated by External Relations Minister Mbella Mbella on October 20, 2021 during a State diner offered in honour of the Ambassador who has come to the end of his diplomatic stay in Cameroon.
In his toast at the diner, Minister Mbella Mbella said Cameroon is bidding farewell to a friend who worked with officials in strengthening bilateral ties between Cameroon and Algeria. "You have come to the end of your mission in Cameroon after a fully successful stay. Your dynamism and commitment have made it possible to broaden the scope of our bilateral cooperation," the Minister stated. The gradual strengthening of the legal framework between the two countries through the drafting and maturing of certain Agreements, the increase in scholarship offers for civilians and military personnel, support to the cultural sector notably through the organisation of the "nguon" festival and the funding of the documentary entitled "History of Foumban, Minister Mbella Mbella cited, are some of the achievements which mark the stay of the Algerian diplomat in Cameroon. Draft agreements between the Chambers of Commerce of the two countries and in the military domain as well as the holding of the fifth session of the Joint Commission for Cooperation, the Minister added, are avenues that will make it possible for Cameroon and Algeria to assess cooperation ties and define new and promising areas.
To the Ambassador, he is happy to have served in Cameroon for six years eight months, and received the support of authorities to attain fixed objectives in enhancing cooperation ties between the two countries. "I also discovered the hospitality, good engagement, solidarity and tolerance of Cameroonians. From North to South, East to West, Cameroon has dynamic features and a rich culture. The social characteristic of Cameroonians is wonderful," he said, adding that he will remain an Ambassador of Cameroon wherever he goes.
The Ambassador was offered the bronze carving of a palm tree, reflective of vegetation, victory and richness, characteristics which the Minister said were displayed by the Ambassador throughout his tenure in Cameroon.

Same category